What are the Different Styles of Wrought Iron Design?
Styles of wrought iron design are created for various purposes, some practical and some decorative. Some of these include wrought iron gates and fences. These may be used for driveways or entryways. Wrought iron styles made for night tables, book cases, or shelving units are other types. Headboards with canopies are other styles of wrought iron design that may be manufactured for everyday use.
Certain types of metal art serve no purpose other than ornamentation. This style of wrought iron design may be part of wall decor in one's home or business. These pieces of metal art may be created with intricate patterns or hand painted. Some of these decorative pieces are known as wrought iron wall sconces.
Another type of wall hanging that may be decorative as well as practical, is a wrought iron design wall clock. This may feature a rustic or contemporary design with metal borders. Some of these wall clocks may match other pieces, such as wrought iron design light fixtures.
A wrought iron design created for picture frames may be commonly found in photography shops and department stores. These are available in various sizes to accommodate different sized photographs. Some are designed for displaying on desks or tabletops, while others may be hung on the wall.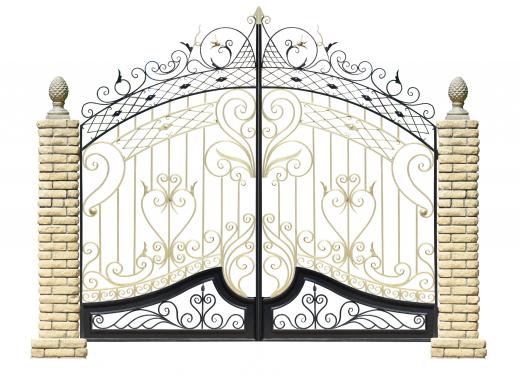 Railings and staircase banisters are a type of wrought iron design created for homes and other buildings. Many of these intricate styles are created by expert craftsmen and artisans. While made for practicality, these wrought iron designs also incorporate beautiful works of art.
Wrought iron accessories used for the fireplace are other styles. These may include andirons and fireplace screens. It is common to find fireplace log holders constructed of wrought iron. Candelabras are styles of wrought iron designs commonly made for fireplace accents.
Bathroom fixtures and accessories are often made with wrought iron styling. Towel bars are one example. These are generally preferred for durability. A towel rack is another accessory that may feature a wrought iron design.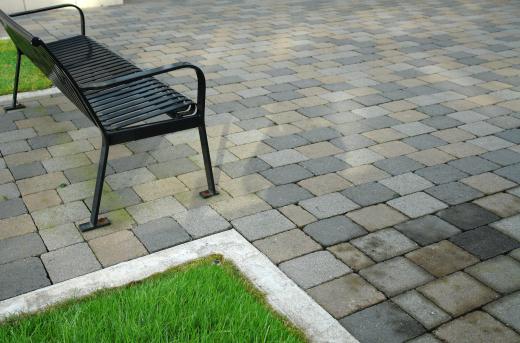 Designs made for the kitchen may be constructed of wrought iron. Bakers racks are commonly seen in this metal. Spice racks that can be hung on the wall are another. Holders that store pots and pans are often made from this material. Wrought iron chandeliers are commonly seen in dining areas and some larger kitchens.
Decorative table lamps made from wrought iron may be used for formal or casual decor. Some styles incorporate a glass base. In addition to table lamps, floor standing lamps may also be found in wrought iron designs. Outdoor lighting and fixtures can be constructed of wrought iron as well.
AS FEATURED ON:
AS FEATURED ON:

By: Polina Kobycheva

A wrought iron headboard.

By: Swet

Wrought iron gates can be both practical and decorative.

By: Horticulture

Outdoor chairs and benches for public use have historically been made of wrought iron.