What are the Different Options for Sunroom Additions?
Sunroom additions are an effective way to add space to a home while bridging the gap with the outdoors and bringing in plenty of natural light. There are four basic styles of sunroom from which to choose, including screened patios, solariums, seasonal and modified. Making a selection will ultimately depend on one's climate, one's style and overall cost. Distinguishing the differences between the four options should provide an idea about the ideal sunroom for a person's specific situation.
The screened patio is the most basic type of sunroom addition and is usually the least expensive. Screen panels are often damaged by the elements quicker than glass panels are, but screens are also much cheaper to replace. The benefits of a screened patio are that it allows fresh air to come in and lessens the boundaries between the indoors and outdoors. A downside is that they aren't as usable during the late fall and winter months in colder climates.
Solariums have become popular sunroom additions because of their beauty and year-round functionality. They usually have insulated glass panels that can be heated or cooled, depending on the weather. Most also offer complete panoramic views that add to the aesthetic appeal. The length of the glass walls in a solarium is customizable, though many either have full-length glass or glass that starts about knee-high from the floor and runs to the ceiling. Solariums are, perhaps, the fanciest type of sunroom addition, but they also are the most expensive in terms of upkeep.
Seasonal sunroom additions function as one might imagine. They are less extravagant versions of a solarium, and typically contain glass panels that are unable to be heated or cooled. They are, therefore, only usable during favorable weather conditions throughout the year. These are middle of the road in cost and tend to be cheaper than solariums but more expensive than screened patios.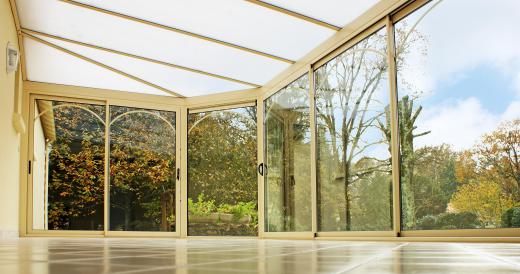 The final type of the four main sunroom additions is the modified sunroom. These are only applicable to certain properties that already offer a place for a sunroom to be installed. It usually requires some type of existing patio or enclosure to turn the area into a modified sunroom. The price of installing this addition varies and is largely dependent on the existing patio structure.
It's wise to consider all of the factors before deciding to install a sunroom addition. Having a clear idea of what the sunroom will be used for and during which time of year will ultimately be the indicator of which style to choose. It's also important to check out and compare several manufacturers before making a final purchase.
AS FEATURED ON:
AS FEATURED ON:

By: Scott Prokop

Sunroom additions come in several forms and can be matched to the specific style of a house.

By: digerati

An existing patio can be enclosed to make a sunroom.

By: photlook

Solariums often have full-length windows that offer a complete view of the outside world.