What Are the Different Options for Basement Access?
Although homes once featured only limited access to basement spaces, modern construction offers a variety of options for basement access. Interior hatch and stairway systems can be added to older homes to improve access and gain usable space. Egress windows and external staircases can also provide ways in and out and are especially useful when adding living space to the basement of an existing structure. Walk-out basements offer easy access to both outside spaces and sunlight.
Many older homes had access to the basement only through exterior cellar doors or sometimes through floor hatches located within the home. Interior stairways can easily be added to older homes, allowing more convenient access to these basement spaces. Even if these older basements are left unfinished, this allows easy access to utility panels and systems, which can be a very desirable feature, particularly for homes located in colder climates.
Egress windows offer secondary access to modern basements. Such windows are large enough to serve as a door and is mounted below grade, inside an oversized window well containing an escape ladder. Although not intended as primary points of basement access, egress windows allow basements to be used as living and sleeping space by offering an additional exit point in case of fire.
External basement staircases can be added to either new or existing basements. They consist of a staircase, sometimes made of poured concrete and sometimes of wood or metal, located on the outside of a home and descending to the level of a door located at floor level in the basement. This is a general-purpose type of access and can be particularly handy when a basement serves as a workshop or mud room.
Walk-out basements, sometimes referred to as daylight basements, offer the most direct access to a basement space and are frequently finished and used as general living space. A home with a daylight basement is built into sloping earth so that only one side of the foundation is completely below grade. The grade on the opposite side is set at floor level for the basement. The daylight side of the basement is often constructed as a framed wall rather than a poured foundation. Ordinary patio or entrance doors are then installed to provide access.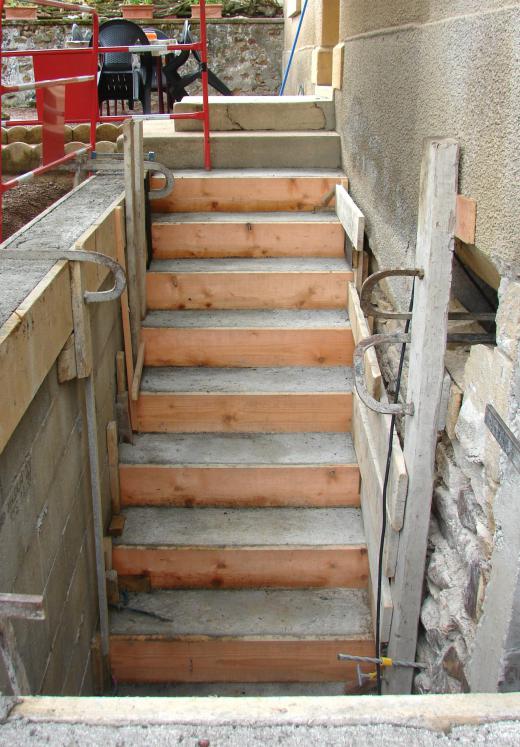 In some cases, a home might be built with a partially exposed basement. This allows basement spaces to have large windows, making them suitable for living space. This type of basement offers emergency access through windows but generally relies on sunken exterior stairwells for direct access.
Frequently Asked Questions
What is the most common type of basement access?
The most common type of basement access is through a door located at ground level. This may be a bulkhead door dug into the ground outside the house or an outside door carved into the side of a basement wall. It eliminates the need for using stairs or a ladder whenever you need to enter or leave the basement.
Are there any other ways to access a basement?
Yes, there are several other ways to access a basement. An interior staircase is a popular option that provides access to the basement without having to go outside. A hatch or trap door in the floor of the main level can also provide access to the basement. There may be an emergency exit window in the basement wall of some houses.
Are there any safety considerations when installing basement access?
Yes, safety is an important consideration when installing basement access. A deadbolt lock and solid construction are necessities for any door that will be installed on the bottom floor. A sturdy handrail should also be installed on any indoor stairway, and all windows should have locks installed for security reasons.
What are the benefits of installing a bulkhead door for basement access?
Accessing the basement without leaving the house is made simple by installing a bulkhead door. It's usually made out of steel or aluminum and can have a locking mechanism built into the design for safety purposes. The basement can be kept dry and draft-free by installing weather-stripping on the bulkhead doors.
Can I install a bulkhead door in an existing basement?
Yes, it is possible to install a bulkhead door in an existing basement. However, due to the complexity of the required structural adjustments, this type of installation should be left to a licensed and specialized contractor. Any alterations should also be checked for code compliance before being implemented.
AS FEATURED ON:
AS FEATURED ON:

By: Kristen Wheatley

Walkout basements have doors that open directly into a yard.

By: Elenathewise

Adding an interior stairway can increase basement access.

By: HomeSpot HQ

Egress windows are not meant as a primary access point to a basement, but can be used when necessary.

By: vbress

New or existing basements can make use of external stairs.

By: Unskinny Boppy

Basements may be utilized as a mud room.