How do I Choose the Best Basement Carpeting?
Choosing the best basement carpeting for your home should include assessing any moisture issues as well as making other considerations. For instance, if your basement floor is concrete, a thick carpet padding may help add much needed warmth. Since basements often have an outside entrance, soil-resistant carpets can be the best choice to help handle tracked-in dirt.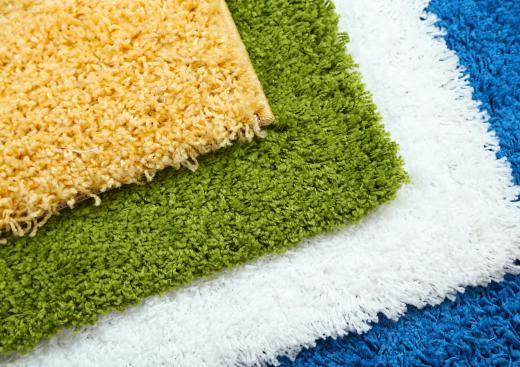 Berber carpeting can be excellent in basements as its tightly woven, short pile structure tends to not show the dirt like most other types of carpets. Good quality Berber basement carpeting requires minimal maintenance to look its best. It tends to be an extremely hard-wearing carpet that lasts many years. If you opt for Berber carpeting in your basement, consider a mottled pattern in brown tones rather than a solid color to better hide dirt smudges or stains.
Another good option for a basement carpet is squares or tiles. Carpet tiles, or squares, offer an alternative to working with large rolls of carpeting for wall-to-wall installation. The carpeting squares instead are single, easily manageable pieces that can be placed in rows to adhere to the floor. If you decide on tile basement carpeting, it's a smart idea to purchase extra squares because any stained ones may then be replaced as needed. If you still prefer carpeting rolls, cutting the scraps into mats to place in high traffic areas can help extend the wall-to-wall carpet's life by keeping it cleaner.
Having mats to wipe shoes both outside and just inside basement door entrances can help keep whatever type of carpeting you choose cleaner longer. Light-colored carpeting isn't usually a good choice for basements; medium, dark or multi-colored carpet types tend to stay looking attractive for much longer. In general, it's better to choose low pile carpeting for basements. It won't trap small rocks and debris as easily as high pile carpeting. Low pile carpet varieties are also usually easier to vacuum and maintain.
Picking basement carpeting with good padding is important. Thick, good quality carpet padding can help basement floors feel less chilly as well as more comfortable. Carpet padding that is thick provides the best cushioning for walking on. Antimicrobial carpet padding is usually the best choice for basements prone to moisture problems.
The antimicrobial properties help prevent the growth of mold. If mold grows on the padding, it's likely to spread to the basement carpeting as well. The carpet padding you choose for moisture protection should be clearly labeled as such or you may not be getting an antimicrobial product.


By: tdoes

Berber carpet may be an excellent choice for basement carpeting.

By: Africa Studio

It is important to pick basement carpeting with good padding.