What are the Advantages of Solid Wood Flooring?
Solid wood flooring, also known as hardwood flooring, has numerous advantages to the homeowner or buyer. Solid wood floors are one of the easiest ways to add value to a property. If maintained properly, they wear well over time, and avoid the ugly markups that carpet tends to attract. Cost effective, durable and classy, solid wood floors are one of the few long-lasting home fixtures that remain desirable to a wide variety of homeowners and buyers.
Solid wood flooring is one of the cheapest and easiest ways to add value to a home. Of course, hardly any facet of home improvement is cheap, but wood flooring is less expensive than many other improvements. A sharp-looking hardwood floor can add multiple times more value than it cost to install. Solid wood floors don't only add value in the eyes of a property appraiser, but are also often highly sought after by home buyers. Another added cost-to-value bonus is that many types of solid wood floors aren't difficult to self-install, and self installation is that much cheaper than paying a professional.
With the proper maintenance, solid wood flooring is very durable and tends to have a longer lifespan than carpet. Without care, however, solid wood floors can become damaged and warped, at which point they'll certainly be more of a cost and headache to repair. Solid wood floors in good condition need to be mopped and swept regularly, some recommend daily. Periodically, a waxing or refinish may be necessary. Solid wood floor owners should also take care to pad furniture that may be damaging to the wood, and avoid tracking dirt and other items across the floor. With that kind of basic maintenance, a solid wood floor can remain in good condition well beyond the lifetime of the owner.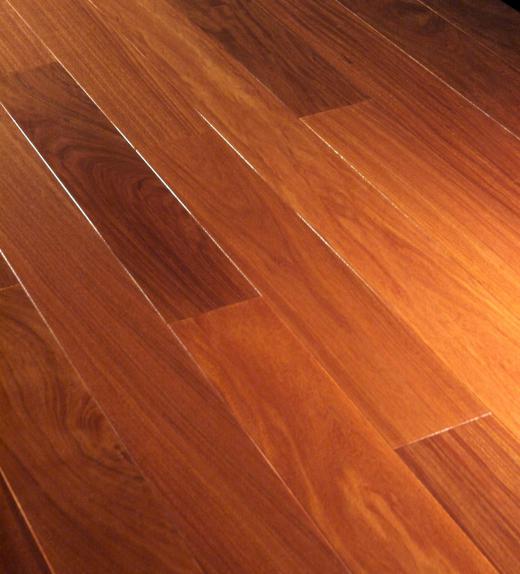 Solid wood flooring is much easier to clean than carpet, and a great hypoallergenic addition to a home. Carpet is notorious for harboring any number of allergens. Hair, pollen, dust spores and mold are all regular inhabitants of the household carpet. Although a thorough steam clean is effective at getting rid of stains and allergens, it isn't a permanent solution. Solid wood flooring, on the other hand, leaves no place to hide. A daily sweep and mop, and the period refinish, is just about all a hardwood floor needs to stay sterile and clean.
Solid wood floors are also easy to match to nearly any home style and design. Carpet may blend in for a time, but can look woefully out of place once a new owner decides to update the wall paint, or refurnish a house. Wood flooring, however, has a classical and timeless appeal, able to easily blend in with any furniture set, wall paint and overall ambiance.
AS FEATURED ON:
AS FEATURED ON:

By: jogyx

Installing hardwood floors may help add value to a home.

By: Brian Creswick

Hardwood floors are durable, classy, and cost effective.

By: Wollwerth Imagery

Properly maintained solid wood floors are usually more durable than carpet.