What are Some Tips for PVC Pipe Repair?
Most modern buildings contain plumbing systems designed with PVC pipes. Sometimes, as with most things, these pipes will need to repaired. The best measures to take when fixing pipes depends on what exactly needs to be repaired. The most common type of PVC pipe repair is that of a cracked pipe or joint.
To get started with cracked PVC pipe repair, it is important to inspect both the extent of the damage as well the location of the damage. If the crack is less than one inch (2.5 cm) in length and relatively mild, then using a sealant may be all it needs. Silicone sealer is the best choice, and it can be applied directly to the crack. Be sure the sealant has time to set before the pipe is used.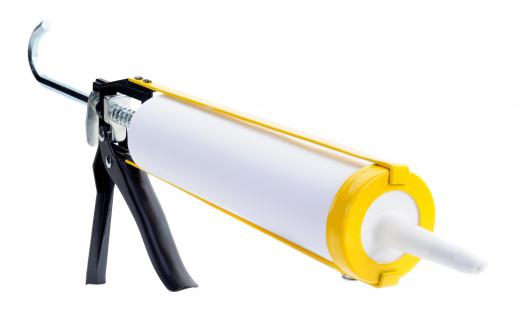 If the crack is located on a main water line or is more extensive than a hairline crack, the most appropriate form of PVC pipe repair is to install a replacement pipe section. This will prevent any sealant from eventually wearing away from a severe crack. Replacing a section of pipe is simple to do, and the results are longer lasting than a simple seal.
Replace a pipe section by finding PVC piping that is the same thickness as the original pipes, and cutting it to the length needed. Apply sealant at both ends, and attach couplings before inserting the pipe in place. Once the pipe is set, tighten the couplings and apply additional sealant to both sides of the original pipe.
The replacement of PVC joints would be identical to the steps taken in the repair of non-joint sections. For cracks that are not severe, use a quality silicone sealant. More extreme cracks will require the replacement of the entire joint.
In some cases, PVC pipe repair may not be an option without the aid of a professional plumber. This generally is the case when damage is very extensive and would require the replacement of several sections of piping. To find a reliable plumber, check a local phone directory and look under "plumbing" or "PVC pipe repair."
Sometimes, very little repair work will be needed. A simple loose section may need to be tightened down, or a coupling may need to be removed and sealed back into place. For clogs and other drainage issues, it is likely not related to the pipes in particular. Use a plunger or chemical unclogging agent to remove the clog, or call a professional plumber.
AS FEATURED ON:
AS FEATURED ON:

Silicone sealant in a caulk gun, which can be used to repair PVC pipes.

By: thejimcox

Polyvinyl chloride pipes, or PVC pipes, are very versatile and used for a wide array of things in modern society.

By: Nomad_Soul

The most common PVC pipe repair is the replacement of a cracked pipe or joint.