What Should I Consider Before Starting a Home Remodeling Project?
Many homeowners pursue home remodeling projects to address an immediate need or provide for the future of the house. Any home remodeling project, whether it be a simple fixture replacement or a major addition, will involve at least some pre-planning and financial investment on the part of the homeowner. No one wants to become involved in a 'money pit' situation- a series of events in which one home remodeling repair inevitably leads to a dozen unplanned repairs.
Before starting any home remodeling project, there are many important factors to consider. Here are some questions to ask yourself before hiring contractors or investing in building materials: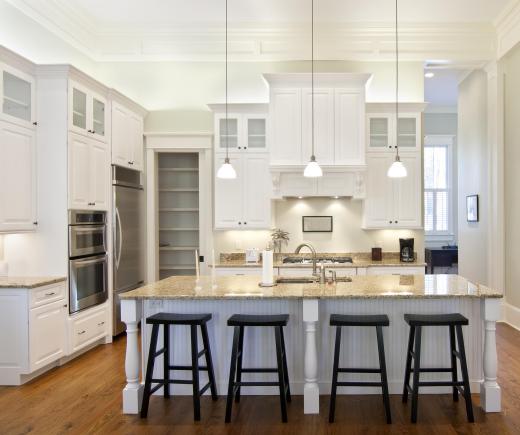 1. Do I need a building permit? Some home remodeling projects may involve structural changes or elaborate reworkings of current electrical and plumbing circuits. Before a homeowner can begin an addition, the city department which oversees private construction projects must issue a building permit. This permit insures that the home remodeling plans meet specific building codes and only qualified workers will handle the essential rewiring and refitting needs.
2. Am I capable of performing this home remodeling project myself? Even a simple replacement of bathroom or kitchen fixtures can involve some background knowledge of safety factors. Wallpapering and interior painting are other areas where beginners may find themselves over their heads. Before tackling any home remodeling project, it pays to watch videos or read books produced by professionals. A local building supply store may offer in-store demonstrations of basic remodeling techniques or provide technical support.
3. Will this home remodeling project address the actual problem? Repainting a room will not make it larger, for example. Some homeowners find themselves in a constant state of flux when it comes to home improvements. Instead of investing a substantial amount of time and effort in a large project which may solve the entire problem, they make a number of smaller improvements over time. This can prove to be even more expensive to repair later. Sometimes it's best to hold off on an home remodeling project until all of the work can be done at one time.
4. Can I find reliable and licensed contractors? If the home remodeling project calls for professional help, a good contractor can be a life saver. A bad contractor, on the other hand, can be a nightmare for nervous homeowners. If you know someone who has recently made home improvement similar to your own plans, ask for their contractor's name and contact information. Ask local building supply stores for referrals, since they deal with reputable local contractors on a daily basis. A good contractor is always in demand, so you may want to plan your home remodeling project around his or her schedule. Try not to allow impatience to be your guide when it comes to hiring contractors. There may be a very good reason why a certain unknown contractor is available right away.
AS FEATURED ON:
AS FEATURED ON:

By: Wollwerth Imagery

Remodeling a kitchen is considered to be one of the most expensive home-improvement projects.

By: Ernest Prim

Finding reliable contracts is an important aspect of home remodeling.

By: Ilia Shcherbakov

Buying safety gear is an important part of a remodel project for people looking to do the work on their own.

By: GoodMood Photo

Not every kind of paint is suitable for every kind of project.

By: Dennis Oblander

Some remodeling projects should be completed by a licensed contractor.

By: zimmytws

Some home remodeling repairs can lead to larger and unexpected repairs.