What are French Provincial Chairs?
French provincial chairs, also known as bergere chairs, were first brought to prominence in France in the 18th century. The style of the chair is based on intricate designs that were popular in Paris at the time. They are made of wood, have an upholstered seat, arms and back, and are usually fairly simple in appearance, although many have carvings built into them. This made them more practical and popular among farmers and other rural inhabitants.
The wood that French provincial chairs were made of largely depended on the region in which they were made, although with the advent of modern forms of transportation that is no longer the case. They are still made of the same woods today, and commonly come in oak, walnut, elm, or mahogany. Other types of wood which were used but is less popular now are apple, pear, or cherry wood. The wood can be left alone for a more natural look, but is often painted, gold-leafed, or stained.
Although silk was the traditional material the chairs were covered with, other materials, such as leather, are often used today. The upholstery usually covers padding on the back of the chair as well as the arms and seat. Cushioning on French provincial chairs is usually quite fluffy and comfortable to sit on.
Ornamentation was not always ostentatious on French provincial chairs, but there were often carvings worked into the wood that reflected its agricultural roots. Designs, including seashells, flowers, animals, hearts, fruit, and coins, often adorned the chairs and held symbolic meaning. Seashells symbolized fertility, hearts meant love or affection, and coins were meant to induce prosperity. Flowers and fruit often signified the divine.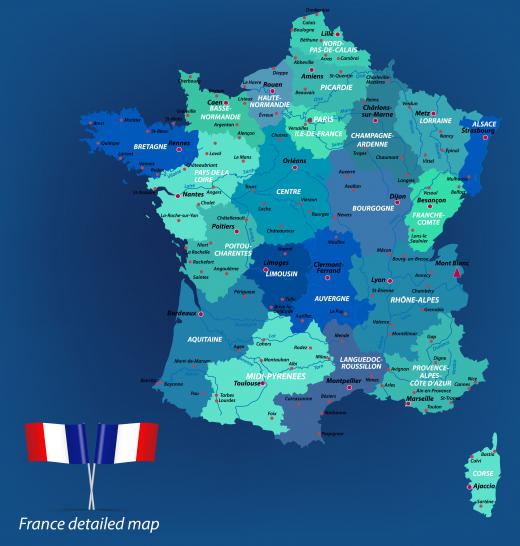 The chairs were built to be functional and practical, and also to blend with the rest of the furniture that had the same French provincial style. They were built to be sturdy and movable, and homes would have several chairs in the house that could be used in a variety of ways, including eating, socializing, or card-playing. As they were quite durable, they would often be passed down from generation to generation.
In modern times, French provincial chairs are used in similar ways but are often relegated to a specific room, such as a sitting room or living room. Although still functional, they are often considered a sign of elegance and refinement despite their humble beginnings. As was the case in earlier times, there are designers who specialize in building French provincial chairs.
AS FEATURED ON:
AS FEATURED ON:

By: Dmytro Sukharevskyy

Some French provincial chairs were adorned with coins that were meant to induce prosperity.

By: polesnoy

French provincial furniture was prevalent in Bordeaux, Brittany, Normandy, Provence and other French country provinces.