What are Fish Tank Stands?
Fish tank stands are stands that are designed to display fish tanks at a height that makes viewing and maintenance convenient. They are also specially constructed to hold the extra weight of a fish tank.
Smaller fish tanks up to about 40 gallons (152 liters) are usually displayed on simple stands made of cast iron. Cast iron stands are open, with four legs, a simple rectangular top lip, and cross-braces on the sides and back. Smaller fish tanks normally use filters that hang on the tank itself, so the aquarium stand does not have an enclosure for storage, as do larger versions.
Cast iron fish tank stands are made for glass tanks or aquariums, as the stand lacks a solid top, which glass tanks do not require. This makes the stand lighter and more portable. Glass fish tanks have a steel rim around the bottom and side seams. The bottom steel rim sits on the lip of the cast iron stand. Fish tanks that are made of acrylic rather than glass require a different type of stand with a solid top, as an acrylic tank must have support across the entire bottom rather than only along its edges.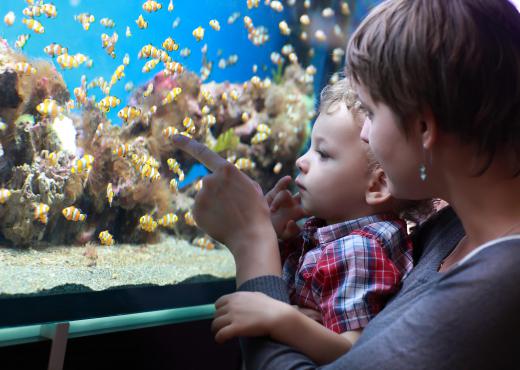 Larger fish tank stands made for aquariums of 50 gallons (190 liters) or more are normally made of pressure-treated wood. Pressure-treated wood is wood that has been chemically treated to resist rot. These stands have solid tops and bottoms that extend slightly beyond the walls for extra stability. The fronts of these fish tank stands are made with cabinet doors that swing outward. Inside the cabinet, there is plenty of space for canister filters, wet/dry filters, or aquarium supplies. The backs of these fish tank stands are largely open with a center support. This allows tubing and electrical wires to run easily out the back. This type of fish tank stand can be used for glass or acrylic fish tanks.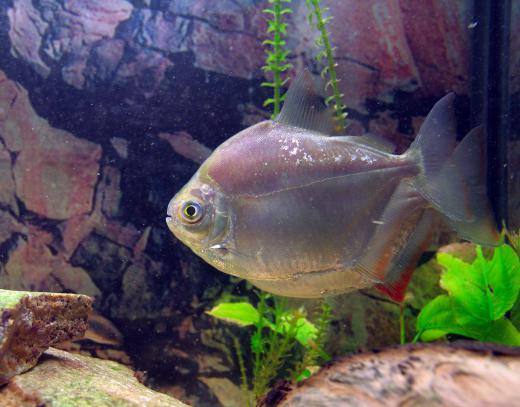 Some fish tank stands are also made of painted acrylic or medium density fiberboard (MDF). More expensive stands can be made with many finishes that mimic the look of stone, granite, marble or other natural textures, and other retailers offer premium stands made of cherry or other woods, designed to be as beautiful as any ornate piece of furniture. These displays far exceed the cost of the tank itself.
Fish tank stands should always be used in lieu of common furniture, as most furniture is not designed to hold the weight of a fish tank. Even a small 10 gallon (38 liter) tank will weigh close to 100 lbs (45 kilograms) when fully set up. Water weighs 8.5 lbs./gallon (3.9kg/3.8l) and with the weight of gravel, decorations and the tank itself, the weight really adds up.
When choosing a stand make sure it was made for the size of the aquarium you will be placing on it. If any part of the aquarium bottom extends beyond the stand's top or rim, the fish tank stand is too small.
Fish tank stands are readily available anywhere fish tanks are sold. Used fish tank stands can also be found in the classified section of most newspapers. Finally, aquarium stands can be constructed as a do-it-yourself project, but research should be done to make sure the stand is constructed with the special support needs that your fish tank will require. Many plans can be found online to this end, and it is always recommended that the stand be over-build rather than adequately built for your application.
AS FEATURED ON:
AS FEATURED ON:

A man working on an MDF fish tank stand.

By: Arkady Chubykin

Smaller fish tanks normally use filters that hang on the tank itself, so the aquarium stand does not have an enclosure for storage, as do larger versions.

By: Michal Adamczyk

Aquariums that are too small or crowded can cause stress to the fish they hold.

The coral beauty angelfish makes an excellent aquarium fish.