How Do I Choose the Quietest Washing Machine?
Manufacturers are developing more ways to make washing machines run quieter at prices that are competitive with traditional, noisier models. In general, front-loading machines tend to be quieter than top-loading machines, and newer washing machine models generally also have a variety of parts that minimize noise. The quietest washing machine combines the use of a direct drive motor with noise-reducing insulating pads to reduce vibration.
When choosing a washing machine, top-loading models tend to be noisier, both during general use and because the wash barrel can become unbalanced during a cycle. This causes the machine to make a very loud clunking or banging noise that needs to be corrected by manually readjusting the contents before the washer can be started again. Because of the way they are designed, front-loaders don't have this problem.
The quietest washing machine uses a direct drive motor. Washing machines in the past used a belt and pulley system to operate the machine, but newer models have replaced the noisier system with a coupling. In addition to being quieter, the coupling system has fewer parts, which means less chance of a part breaking down. The direct drive machine uses less water and is more energy efficient, and lacks an agitator so it causes less damage to clothing than traditional washing machines.
Consumers should be cautioned that just because a washing machine is quieter than a competing model, there are other factors to consider when deciding what type to buy. Although the quietest machine is usually more energy efficient, it may sacrifice washing or rinsing ability in the process. The spin cycle may move more slowly, causing the cycle to be less noisy, but clothing may need an extra rinse cycle to remove the soap completely. Front loading machines have more parts and seals to prevent leakage during use, so there are more parts that can possibly need repair. Although there are exceptions, front loaders and other quiet washing machines tend to cost significantly more than top-loading, belt-and-pulley models.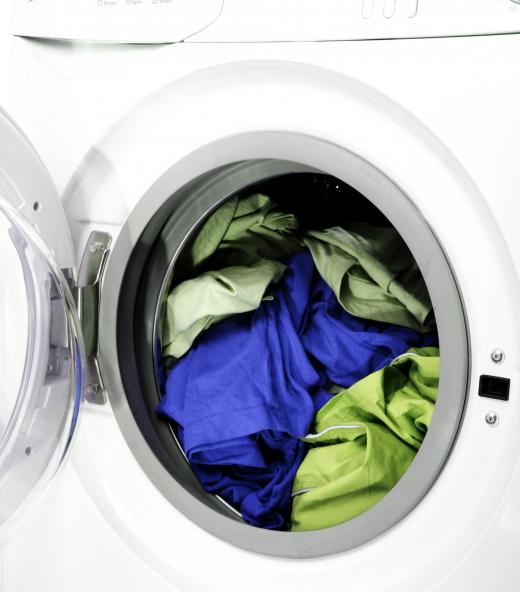 Buyers should evaluate whether or not noise control is the deciding factor in purchasing a particular washing machine model. If the machine is located near a sleeping area or home office, a quieter model may be necessary. Otherwise, cost, options, or energy-efficiency may be more important than noise control when buying a washing machine. When deciding which features are most important, consumers should always read reviews of other buyers to determine possible advantages and disadvantages of one model over others.
AS FEATURED ON:
AS FEATURED ON:

By: g215

Due to the design, front-loading machines are more quiet.

By: tab62

Top-loading washers are noisier but also are typically less expensive.

By: Olaru Radian

Front-loading washers are designed to be quieter.

By: Rasulov

Although the quietest machines are usually more energy efficient, they may sacrifice washing or rinsing ability in the process.

By: George Dolgikh

Front-loading washing machines tend to be quieter, but more expensive, than other types.