How do I Choose the Best Stucco?
There are several types of stucco to choose from, including acrylic, traditional, synthetic, and masonry. Each type has a number of benefits as well as some drawbacks. When selecting the best stucco for your home, it is important to consider the weather, the cost, and the building material.
The stucco which holds up best against all types of inclement weather is acrylic stucco. It does not peel or crack when exposed to rain, snow, or hail. Acrylic stucco is a good choice for regions with high humidity or desert conditions, and it is resistant to UV light. A very tough material, acrylic is also very flexible. An acrylic stucco mix contains ceramic and aggregates — the individual components of the material — to give the finish a textured appearance.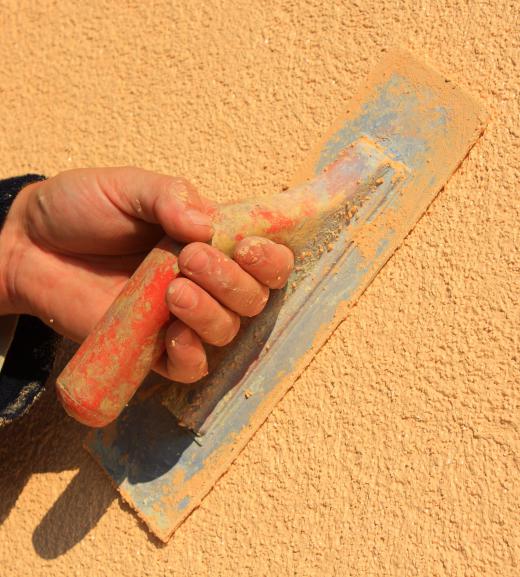 Traditional stucco is the least expensive option. It is commonly found on the exterior walls of houses. Traditional stucco is made of cement, lime, and water, and is easily applied to the wall surfaces. It is relatively maintenance free, but it does occasionally crack or chip. This type of stucco absorbs water and does not do well in regions with high humidity. If you are looking for an affordable and easy to apply option, traditional stucco may be the best stucco for you.
Typically, the best stucco for flat surfaces is synthetic stucco. Synthetic stucco is also known as exterior installation and finish system. It doesn't utilize cement; instead a special finish is applied over an insulation board that contacts the wall surface. The insulation board is typically made of plywood or gypsum. A styrofoam panel is bound between the boards, a wire mesh is attached to the boards and two coats of synthetic stucco are applied.
Masonry stucco is generally the best stucco for masonry or other firm bases. The plaster consists of cement, water, sand, and lime, and is applied onto a wire mesh that is strapped to the wall surface. The surface of the stucco is porous and it will absorb water; however, the surface is also breathable, and the stucco will dry without damaging the surface.
AS FEATURED ON:
AS FEATURED ON:

Stucco is applied with a trowel.

By: Galina Barskaya

Acrylic stucco holds up to many different weather conditions.

By: peuceta

Synthetic stucco is applied over insulation boards.

By: lenatru

Traditional stucco is porous and should be avoided in wet climates.