How do I Choose the Best Nursery Decor?
When choosing nursery decor, there are a many options to consider. You may first want to decide on the nursery's color scheme or theme. Furniture, decorations, safety, and cost are all important factors.
The gender of the child is of importance to many parents and caregivers when choosing nursery decor. Traditionally, many people have associated the color blue with boys and pink with girls. Unisex design schemes, however, have become increasingly popular over the years.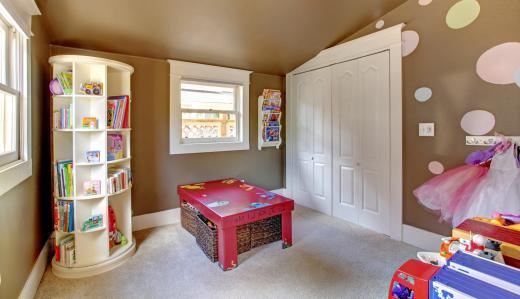 Many people will choose to use a theme in nursery decor. Themes may range from specific to general. Examples of general themes include nature motifs such as aquatic, sky, jungle, or forest. Specific themes may include a presentation based around a popular fictional character from a children's book, movie, or television program. Theme options are vast and may be available in many items, from wallpaper to rocking chairs.
For a large number of parents, an integral part of the process of choosing the nursery decor will be the amount of money involved. Some parents may choose to invest in extravagant decor choices or utilize the services of a professional decorator. For those who cannot afford an excessive design, there are plenty of inexpensive options.
Most nursery decor can be purchased second-hand. Finding large pieces or bedding sets first is a good idea if you intend to have a theme. Purchasing lamps, rugs, and pictures with a certain theme may not be helpful if you cannot find a bedding set to go with it. Buying larger items that fit the theme also makes it possible to buy smaller items that have complimentary colors. Second-hand shops, lawn sales, newspaper ads, and the Internet are all great places to find deals on gently used nursery sets.
Another money-saving option is to choose colors and furniture that will transition well as the child grows. For example, colors such as bright blue and yellow could transition well because children tend to enjoy primary colors, and babies love brightly contrasting colors. Similarly, pastel walls may be suitable until the child is a teen. Neutral-colored furniture, such as black, white, or stained wood, could last the child a lifetime. Buying furniture that can transition, such as a crib that transforms into a toddler bed, also may be useful.
Decals are one of the easiest decorations for a themed nursery. They are available in nearly any design, and you can add and remove them easily without harming paint or wallpaper. Dolls can change to ballerinas, and fish can become stars and planets in a matter of minutes. Children can help by choosing the designs and can place on the walls themselves. The use of decals can make both decorating and redecorating easy, inexpensive, and fun for the child.
AS FEATURED ON:
AS FEATURED ON:

By: Iriana Shiyan

Budget-savvy parents should choose colors and furniture that will still be appropriate as the child grows older.