How do I Choose the Best Laundry Rug?
When choosing a rug for your laundry area, there are several things to think about that will help you choose the best rug. Size is the most important factor. Style, color, and price are secondary considerations, but still an important part of the decision process.
Measure the space where the laundry rug will be placed and also the combined width of the washer and dryer if they stand side-by-side. For stacked machines, measure the width of the bottom machine. Next, measure from the front of the machines to the point where you would like the rug to end. If your laundry area has a door, make sure that it will be able to open and close when the rug is in place by leaving enough clearance for the door when you measure.
Once you know what size laundry rug will fit in the space, choose a style of rug. There are rugs that are specially made for laundry rooms that cover the floor space in front of both the washing machine and the dryer. Small rectangular or square rugs are another option for the laundry area and work well when space or need does not warrant a double-wide rug.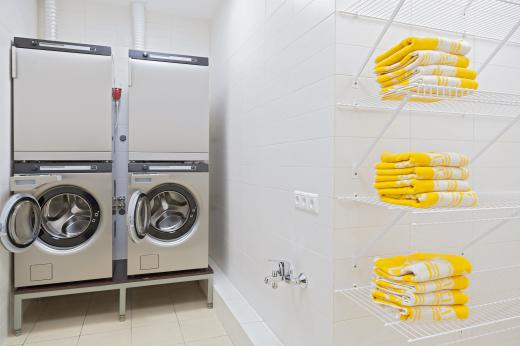 A laundry rug often depicts a cute picture of a clothes line, washboard, or other laundry related items. Other styles have cute laundry sayings or simply "Laundry" printed on them. If a laundry-themed rug is not your preference, choose a fun or vibrant rug with stripes, patterns, or a bold color to dress up your laundry area. In some homes the laundry equipment is located in another room, such as a bathroom or kitchen. If this is the case, choose a laundry rug that matches the decor of the room.
Since most laundry areas have either tile, vinyl, or linoleum flooring, rugs placed on the floor can move or slip when stepped on. When choosing a laundry rug, look for one that has a non-slip backing. If the rug does not have a non-slip backing, purchase a non-slip rug pad to put underneath the rug.
Laundry rugs come in all price ranges, and prices vary depending on the style and size of the rug. Inexpensive rugs in a variety of colors and styles can be found in discount department stores. Specially designed laundry rugs can be purchased online and in select home goods stores.
AS FEATURED ON:
AS FEATURED ON:

By: karam miri

Make sure the rug chosen for a laundry room has a non-slip surface.

By: Сергей Чирков

A laundry rug may be placed in front of the washer and dryer, or in the area where clothing is sorted and folded.