How do I Choose the Best Fabric for Curtains?
Many different types of fabrics work well for curtains and draperies, but before you choose fabric for curtains, consider the window you are covering and your interior décor. Find a fabric that complements the room and the style of the window. For casual décor, you might want to choose burlap or cottons. For more dramatic or elegant rooms, velvet, brocades, or jacquards may work well. If you are going for a bright sunny look, you might want to consider sheer fabrics such as lace or voile.
Sheer fabric for curtains is a good choice for rooms with a light, airy décor. If privacy and insulation are important, you will probably want to hang backing curtains or install window shades. In this way, during times when you want privacy, or during winter months when you need some insulation value, you will have the insulated curtains or shades as an alternative. Voile is one of the most popular types of sheer textile for curtains, as it comes in solids and prints, and can usually be machine washed and dried. Lace may also be a good choice because it can be both elegant and casual, and is available in many different styles and colors.
For formal room décor, you might want to consider brocades or velvet. Brocade curtains can be purchased in most any color, and are usually made of silk or polyester. Brocade is a type of woven fabric that has a raised design, and usually consists of two colors in the pattern. Velvet can be purchased in silk, cotton, or polyester, and is a good choice of fabric for curtains that require a lot of drape. Though velvet is usually very soft and flowing, it also works very well in blocking light and offers some insulation value.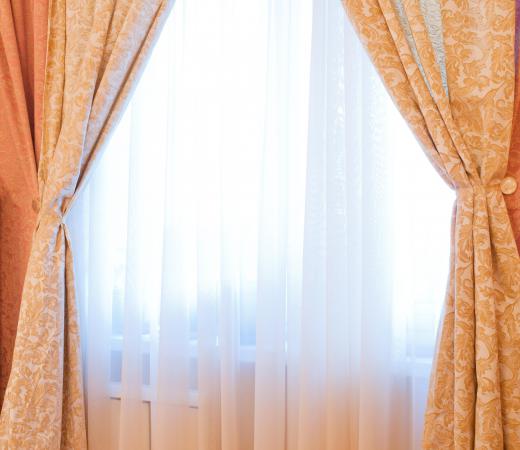 Casual room décor typically requires casual fabric for curtains. These fabrics include burlap, canvas and printed cottons. These fabrics as usually affordable and offer a wide variety of color choice and fabric weight. In addition, they are well suited for tab style and café curtains, both of which are popular choices for casual decorating.
One of the most important decisions you will need to make in choosing fabric for curtains is how much money you can afford to spend. If it is within your budget, you might think about having your curtains custom made. Fabric suppliers often have hundreds of fabrics and colors to choose from, so you will not be limited to the more narrow options available in ready made designs.
AS FEATURED ON:
AS FEATURED ON:

By: Ivaylo Ivanov

Some people use burlap as the fabric for their curtains.

By: koleg68

Fabrics can be layered, with sheers to let in light and heavier fabric tied back or closed.

By: Subbotina Anna

Silk may be used for curtains.