How do I Choose the Best Curtain Tie Backs?
Choosing the best curtain tie backs can be both easy and fun if you aren't afraid to be creative. There are many types of tie back curtain accessories for sale in stores as well as more unique ones you can put together yourself to add personal style to your home. Whether you use bought or homemade curtain tie backs, the main things to keep in mind are size and overall appearance.
As a general rule, the heavier the drapery, the larger and bulkier the curtain tieback should be. For example, heavy velvet curtains may need to be held back with thick iron tie backs that must be installed into the wall. Lightweight sheer curtains may only require a thin ribbon tie back that is simply tacked into place on each side of the window.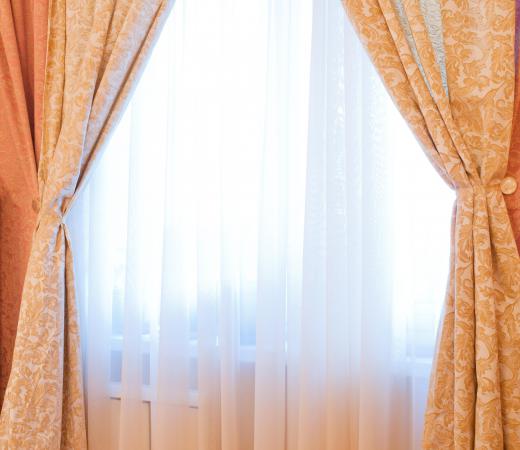 Keeping in with your decor theme or general style is important when choosing tie backs for your curtains. For example, metal leaf-shaped curtain tie backs could be the perfect accent in a room with a lot of plants. Modern, stainless steel tie backs with clean lines would work best in a contemporary living space. Traditional tie back styles could include silk tassels or similar embellishments.
For rustic spaces, rope or another rugged material could be used to fashion drapery tie backs. A simple metal loop attached to the wall could hold the rope curtain tie backs. Tie backs for elegant living rooms could include fine metal chains with small crystal beads or strips of wide satin or velvet ribbon. Much like the difference cabinet hardware can make to the overall look of a kitchen, tie backs often create significant impact in a room. They can add interesting detail to windows, while also serving the useful purpose of holding curtains open to allow sunlight to enter a room.
Since tie backs are located on either side of a window, they tend to capture the eye, especially if they stand out from the wall color. If you prefer a more blended look, choose a curtain tie back color close to that of your wall. The color of the tiebacks should complement the curtains rather than look mismatched. If you have a dramatic style of drapery on a window, make sure to continue the mood in the curtain tie backs. Something too plain in this case is likely to seem out of place and take away from the overall impact of your drapes.
AS FEATURED ON:
AS FEATURED ON:

By: koleg68

Curtain tiebacks can blend in or catch the eye.

By: Vyacheslav Plyasenko

Curtain tie backs with beaded embellishments add to elegance.

By: LoloStock

Heavier drapes and curtains often require stronger, bigger and bulkier tie backs.