How Do I Choose the Best Bedroom Carpets?
Choosing the best bedroom carpets should combine your personal preference for style and color with the type of carpet that will work best in the bedroom. Price is also an important factor to consider and setting a budget is a good idea. Evaluating all of these criteria and doing some comparison shopping will help you choose the best bedroom carpet.
One of the first steps in selecting bedroom carpets is to determine which of the many available types of carpet is best suited for the room. The type of carpet chosen will determine both its durability and its price. Naturally, the better the overall quality of the carpet, the more durable it will be, the longer it will last, and the more you should expect to pay for it. The term "carpet density" is one you will hear often when choosing carpet. Carpet density is the number of threads within a certain area, and the higher the density, the more plush the carpet will be.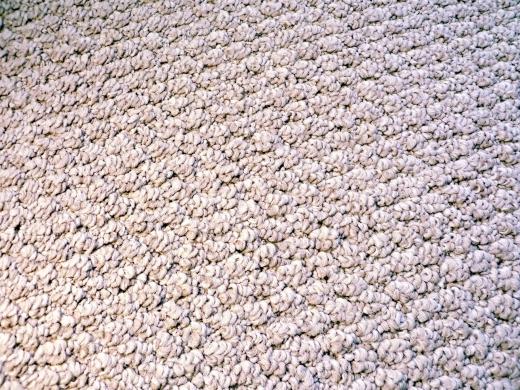 There are many different types of carpet available to the consumer. The difference between each type is how the fibers are cut or looped. Cut-pile carpet is one of the most durable types of carpet, and it is available in several different styles and materials as well as a wide array of colors, making it a popular choice for use in bedrooms. Loop carpets, such as Berber, are also durable, come in a choice of materials and have numerous colors to choose from. Saxony, plush, textured, and multi-leveled loop are other types of carpet that can be used in bedrooms.
In order to choose the best type of carpet, you must think about the room it will be used in. For bedrooms that are used often, such as children's bedrooms, you will need to choose a carpet that can withstand a lot of foot traffic. Cut-pile carpet may be the way to go for a bedroom that is used frequently. Although a master bedroom is used daily, you may prefer a carpet that is more plush like saxony or velvet which will give the room an elegant feel.
Carpet material is another choice in the decision making process. The most common materials used for carpet are wool, nylon, and olefin. Wool carpets can be extremely expensive, which makes it a less popular choice than synthetic materials. Picking a stain treated carpet or having stain repellent added to the carpet you purchase will help to repel stains and soils and prolong the life of the carpet.
After making all of the practical choices for the bedroom carpets, selecting a color is the next step. Carpets come in just about every color imaginable, from neutrals to bright and bold solid colors, as well as multi-colored and patterned carpets. Evaluate the room's wall colors and furnishings in order to pick a carpet color that will enhance the existing decor of the room.
Comparing the cost of bedroom carpets at several different retailers can help you find the best price on bedroom carpets. One thing to remember, is that price per square foot or meter does not usually include sales tax, carpet padding, or installation. Be sure to have all of these items included in your estimates so that you will know the total cost before committing to a purchase.
AS FEATURED ON:
AS FEATURED ON:

By: tdoes

Berber carpets, which come in a variety of neutral colors, are looped pile carpets.