How can I Make my Old Towels Soft and Fluffy Again?
There are several ways to revive old towels with common household ingredients. Adding ammonia or vinegar to the wash can reduce detergent buildup, while drying them on low and using dryer balls can make them fluffier. Over time, towels do have a tendency to get hard and to lose absorbency often because factors like hard water or drying them on too high a heat. Addressing these underlying causes can help eliminate some of the hardness and lack of absorbency. Some very old or very stiff towels may be too far gone; in that case it's better to recycle them and get new ones.
Add Ammonia or Vinegar to the Wash
It's often possible to soften old towels just by adding 1 cup (0.23 liters) of ammonia or vinegar to your wash. Ammonia can strip off buildup from laundry detergent and fabric softeners, while distilled white vinegar can cut through mineral buildup from hard water. Vinegar also softens the fibers of the towel when added during the final rinse. If the towels are smelly, try adding 0.5 cup (110.5 grams) of baking soda in a separate wash. You shouldn't add the baking soda in with the vinegar or ammonia; it won't work as well.
Wash with Water Softening Tablets or Borax
You can also try washing a load of old towels with water softening tablets designed to clean limescale out of laundry machines. This is particularly effective for towels made stiff by hard water. Another option is to mix 0.5 cup (about 110 grams) of borax with 1 cup (about 280 grams) of sodium carbonate — called soda ash or washing powder — in a little very hot water until they dissolve. Once the powder is dissolved and the mixture has cooled down, pour it into a 2 liter bottle, and fill the rest of the bottle with water. Then add 1 or 2 cups (about 236 to 473 ml) of this solution to a load of old towels.
Other Washing Tips
Many laundry experts recommend washing towels separately from other clothing because buttons, hooks, and other clothing closures can catch on the towels and cause them to wear out more quickly. When you wash them, don't overfill the washer — it's important for the towels to be able to move around freely to get clean, and the friction of items rubbing together can cause them to wear out more quickly. Use the hottest water temperature recommended, and always rinse with cold water.
Using Dryer Balls
A non-chemical way to soften old towels is to always dry the towels on low heat with a dryer ball or tennis ball in the dryer. These keep laundry from clumping together while drying and help the air circulate among pieces, which makes them dry more quickly. Generally speaking, it's best to use dryer balls in place of fabric softeners when drying any towels, whether they're old or new because the chemicals in the fabric softener can coat the towel fibers and make them less absorbent.
Causes of Hard or Non-Absorbent Towels
Towels naturally become rough and non-absorbent because the fibers break down over time. They can also get stiff because of environmental factors, like hard water that causes a buildup of minerals on them. After washing towels that have a very heavy buildup of minerals with water softening tablets or a solution of borax and washing soda, you may see small crystals in the bottom of the washing machine; those are the minerals that were washed out of the towels.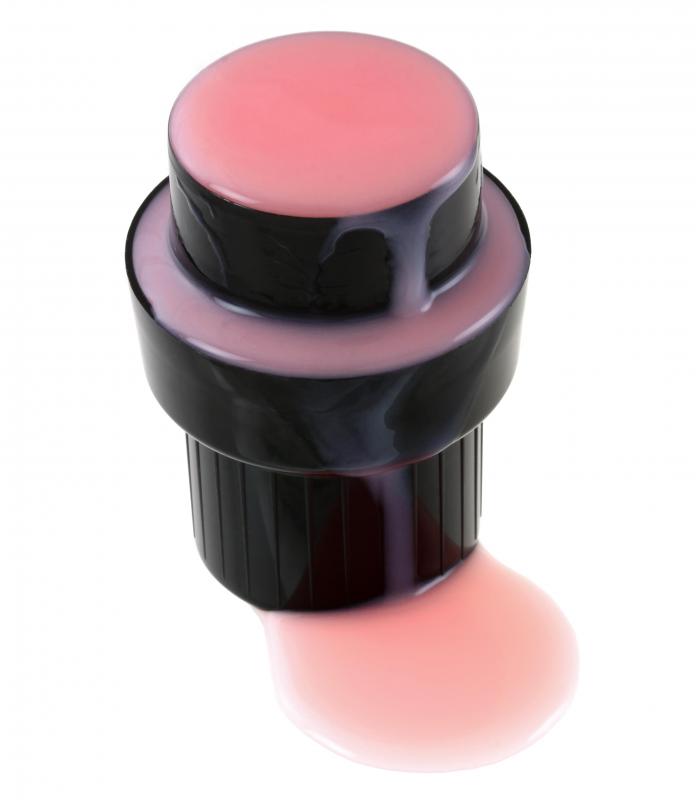 Caring for towels incorrectly can also age them and make them scratchy or non-absorbent. One of the most common reasons towels become less absorbent is because of the ingredients in fabric softeners; the silicon or other lubricants that make the clothes soft can also leave a coating on towels and prevent them from absorbing water as well. Bleaching towels repeatedly can also cause their fibers to break down, making them scratchy. Though it's OK to bleach towels periodically, you shouldn't do it too often.
Too much heat can also damage towels, so it's important to make sure to only dry your towels on low or medium heat settings. It's also best not to iron towels, but if you really want to, then do it on a low heat setting. Towels can get stiff if they're dried on a clothesline instead of in a drier; you can help reduce this by shaking them out before and after you hang them up, or you can dry them only part way, then put them in the dryer with a dryer ball for a few minutes.
Fluffy towels.

By: Vidady

Washing towels with borax can make them soft.

By: picsfive

Ammonia, which can reduce detergent buildup.

By: eyewave

A washing machine with towels in it.

By: Roman Ivaschenko

Using vinegar in the wash can reduce detergent buildup.

By: fotopak

Tossing a tennis ball into the dryer can help soften towels.

By: sassyphotos

Fabric softener can help fluff up old towels.