Which Small Kitchen Appliances are Most Versatile?
The single most versatile small kitchen appliances are the stand mixers. While toasters toast and waffle makers turn out golden waffles, stand mixers are able to do many different types of kitchen tasks, with the aid of attachments that harness the motor in different ways.
Pasta
It used to be that you needed separate small kitchen appliances for each different type of task, but this is no longer true with newer multifunction appliances. Besides mixing up dough for cakes, breads, pizza, cookies, and pie crusts, whipping mashed potatoes, and beating eggs and cream, the small kitchen appliance we refer to as a standing mixer has a "Second Life" in the world of pasta. Some standing mixers come with attachments that let you harness the mixer to make flat noodles, such as lasagna, spaghetti, fettuccine, and angel hair pasta; tubular pasta, such as macaroni and rigatoni; and the stuffed pasta called ravioli, as well as egg noodles.
Other features
If you need to slice or shred fruits and vegetables, or even nuts or cheese, there are attachments for that. This is the type of attachment you could use for almond slivers, coleslaw, and a cracker and cheese tray. A special attachment also strains fruits and vegetables, which is useful for preparing your own baby food, among other uses.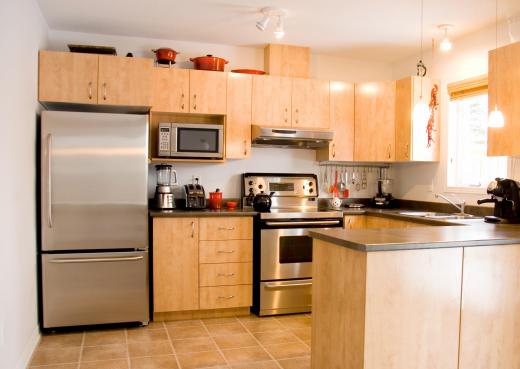 A food mincer and grinder can be used for meat—allowing you to make your own hamburger or sausage. You can also make spreads, such as preparing homemade peanut butter, or—on a different scale of things—paté. The food grinder can also be used to change the texture of homemade applesauce, to make crackermeal, or to grind nuts.
Further features include an ice cream maker, a sausage stuffer, and a citrus juicer, which are rather straight forward and meant for one thing. But there can also be a blender and a food processor, which means that instead of three major food preparation small kitchen appliances, you may be able to make do with only one. The food processor chops, slices, shreds, and purees, and the blender whips and purees more liquid contents.
With all these extensions to its standard uses, you can see the stand mixer is really the most versatile of small kitchen appliances.
AS FEATURED ON:
AS FEATURED ON:

A microwave oven.

Kitchen with a blender, toaster, kettle, food processor, and espresso machine.

By: VL@D

Stand mixers may be used to blend a variety of ingredients.

By: Mara Zemgaliete

Standing mixer attachments allow for a myriad of activities, including grinding, shredding, pureeing, and straining.