Which are the Most Common Stucco Problems?
Some of the most common issues with stucco occur because of moisture. Stucco problems like efflorescence, decomposition, peeling paint, rot, bugs, and mold usually happen due to the level of moisture that comes into contact with the stucco itself. In many cases, cracks can also occur, but often this is not related to moisture. While some stucco problems are not related to the way the stucco was put in place, many issues can happen with both conventional and newer styles of stucco if they are not installed properly.
In cement style stucco, cracking can occur for several different reasons. Moisture that becomes trapped within the walls of the home can expand and contract with the weather, causing cracks. In some areas of the world, earthquakes can also cause them. Soil movement can cause older homes to shift, resulting in cracks, and newer homes may crack because of shrinking lumber. If a home is not built properly, stucco may even crack because of the amount of pressure the wind generates.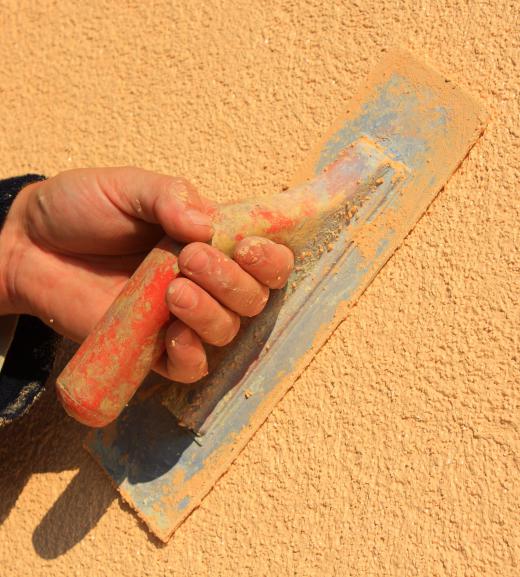 Efflorescence is the salt from evaporated water that can appear on the stucco exterior of a home. This usually occurs when moisture in the water is drawn into the soil, where it evaporates. The salt then remains on the surface of the stucco. Most often, any paint peeling that occurs will happen with efflorescence.
Paint peeling off of stucco is also a result of moisture and, many times, improper installation. It may result from bad flashing, improper caulking, or painting film that is already cracked and riddled with holes when it is applied. Bad ventilation can also cause stucco problems that result in peeling paint. These stucco problems allow moisture to seep into the stucco walls, causing both peeling paint and efflorescence.
Moisture from the soil ca also enter the stucco from the lower part of the walls. This can get behind a wall and, in some cases, become trapped, where it slowly begins to rot the wood and damage the structure of the home. This may attract bugs and encourage fungus, or mold, to grow. These issues can result in health problems for those who live in the house as well.
Proper installation and adequate sealing are required to prevent decomposition of the house structure due to moisture. Stucco problems that occur for this reason can be prevented by sealing the exterior finish off from any condensation or moisture. Regular inspections can be done to ensure that water has not entered the walls. These checks can also help homeowners to be sure that no mold or bugs are present.
AS FEATURED ON:
AS FEATURED ON:

Stucco is applied with a trowel.

By: PHOTOERICK

Cracking stucco is common, although large vertical cracks may signal a structural issue.

By: zimmytws

Environmental stresses such as moisture or natural disasters can cause stucco to crack.

By: Mushy

Under the right circumstances, mold can invade stucco.

By: lenatru

Traditional stucco is porous and should be avoided in wet climates.