There are several ways to buy propane, depending on how much one needs and how it will be used. Customers should keep in mind that propane, like other petroleum derivatives, has a price which can fluctuate wildly. It pays to think ahead and keep track of propane prices to get the best deal, for people who can afford to do this, as purchases during periods of peak demand can get quite costly.
One of the easiest ways to buy propane is to arrange for delivery. For people who use propane for heating, cooking, and other tasks around the house, the gas company will sell or lease a tank and provide delivery of their propane on demand or on a periodic basis. Delivery is often free of charge if it occurs on a regular route, and it usually includes inspection of the tank to confirm that it is in good working order. Gas companies will also deliver propane in smaller portable cylinders, collecting empty cylinders and dropping off filled ones.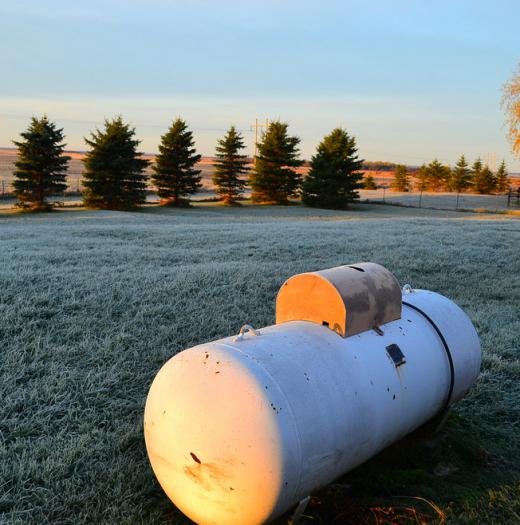 People can also buy propane from a company which sells prefilled tanks. Hardware and home supply stores sometimes sell prefilled tanks, and in rural areas, this service may be provided by a general store. In this case, the customer usually buys or pays a deposit on the tank, and the tank can be reused or the deposit can be reclaimed when the customer goes to buy propane in the future. Some regions have refill stations, where propane users can bring their own portable cylinders for refilling and the propane is metered out for pricing.
Camping supply stores sell small cylinders of propane for hiking and camping with a cookstove. These cylinders usually only provide a couple of hours of fuel, but they are small and highly portable, which can be a distinct advantage. For home use, larger cylinders are necessary, as home stoves use more propane than these cylinders can provide.
If propane is going to be purchased and transported by the consumer, there are some safety precautions to be observed. Propane tanks should not be carried in an enclosed vehicle like a car, and they should also be tightly secured. The bed of a truck is usually the best place to carry propane cylinders, as it is easy to rope a cylinder in place. When the propane cylinder is installed, it should also be checked to confirm that it is not leaking. Propane tanks also need to be situated outside and away from any buildings, so that if they explode, the risk of damage is decreased. People who buy propane for the first time can get advice about safe placement and installation of cylinders from the fire department or the gas company.
AS FEATURED ON:
AS FEATURED ON:

By: Ty Konzak

A propane tank.

By: Andrea Izzotti

Propane heaters come in a variety of sizes.

By: fhmedien_de

Propane tanks can be filled or exchanged at most gas stations.

By: Jim Lambert

Propane is commonly used for outdoor grills.

By: Maygutyak

Camping supply stores sell small cylinders of propane for hiking and camping with a cookstove.