What Is Washing Machine Insurance?
Washing machine insurance is an insurance product to cover repairs to a washing machine, including labor and parts for any needed servicing. It may be sold as part of a package with other appliance insurance. The insurance does not cover damage caused by the machine, such as flooding in a laundry room, on the grounds that homeowners' or rental insurance should cover this type of accident. If a washing machine is particularly expensive or complex, insurance can save the owners money.
Several appliance manufacturers offer appliance insurance, usually designed to kick in after the warranty on the appliance ends and the consumer would normally be responsible for any repairs. Some appliance stores have similar products, and it is also possible to purchase third-party washing machine insurance. One thing to be aware of when purchasing insurance is the type of coverage offered. The owner may have to go through a specific service company to receive coverage, and will need to pay out of pocket if a different company performs the repairs.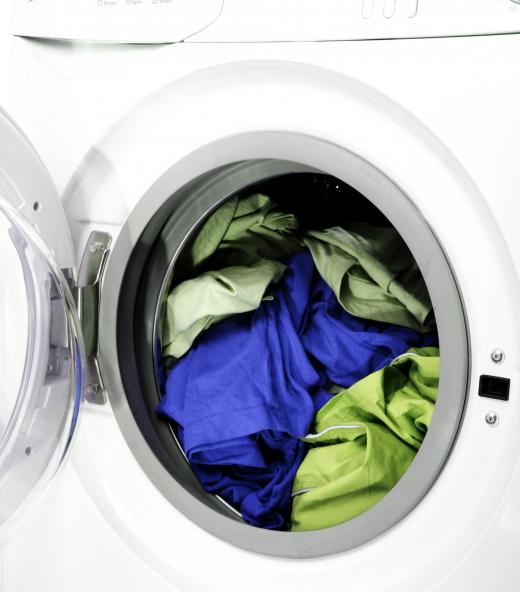 The washing machine insurance can cover issues like leaks, broken parts, damage to the electrical systems inside the machine, and so forth. A repair person will come out to check the washing machine, determine the nature of the problem, and order any parts for the repairs, if necessary. If the washing machine cannot be repaired, the insurance may cover replacement costs for a new machine, depending on the terms in the policy.
Before buying washing machine insurance, it is a good idea to receive quotes from several companies to make side-by-side comparisons. Some things to think about include the company providing service and parts in the event of a problem, the extent of the coverage, and whether replacement costs are included in the policy. Premiums can vary, and consumers need to decide what would be likely to bring them the most value so they can make the best choice for their needs.
Insurance can generate diminishing returns. With older machines, it may make more sense to set aside the money that would be used for a premium in a savings account to cover replacement or repairs directly. Spending more than the value of the washing machine over two to three years of the policy is generally not practical, as the owners could simply replace the machine with that money. Sometimes it is possible to negotiate a package deal covering multiple appliances, in which case the cost for washing machine insurance may be worth it.
AS FEATURED ON:
AS FEATURED ON:

By: Olaru Radian

A washing machine.

By: eyewave

A washing machine.