What Is the Difference between a Well and a Cistern?
Wells and cisterns both provide water, but they do it in different ways. A cistern is a container which is used for the purpose of storing water; cisterns can be found in various sizes all over the world, both above and below ground. A well, on the other hand, taps into a supply of groundwater, such as a spring or underground stream. Wells are built by digging into the Earth and inserting reinforcements so that the sides of the well do not collapse.
Both cisterns and wells have been used for centuries. Many people historically took advantage of the sites of natural springs to build settlements, and as the springs started to fail, they dug out around them to tap the vein of groundwater which supplied the spring, creating early wells. To access the water in the well, people lowered buckets which could be filled with water and pulled up. Ultimately, electric pumps were developed to extract water from wells. Later, people sunk wells in areas that they thought would yield a good supply of ground water, with or without surface springs.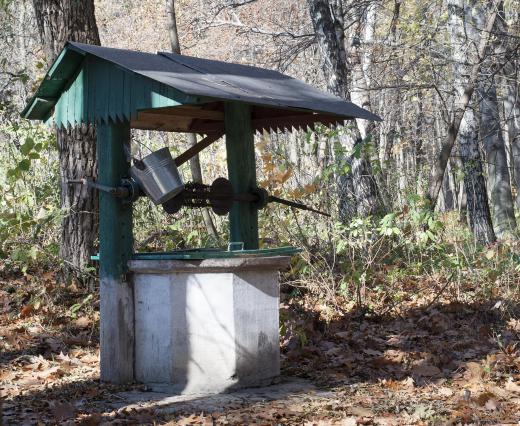 Classically, wells were hand-dug and lined with stone to prevent cave-ins. They were capped with small structures to prevent people and animals from falling in; aside from being unfortunate for the victim, a dead animal in a well would also spoil the water. Modern wells are dug with the assistance of drills, and they are usually lined with concrete rings which are pre-cast to match the diameters of the drills used to make wells. After a well is dug and lined, it is capped and topped with a pump to access the water inside.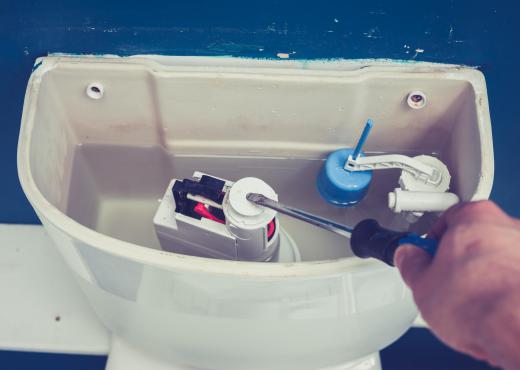 A cistern, on the other hand, is designed to store water, not to tap an existing water source. Cisterns have classically been filled with rainwater, although people can also fill them by pumping wells into them or trucking in water. Cisterns have historically been used in dry regions to store water in the event that wells fail or rainfall becomes extremely irregular, and some people use them as a backup water supply which can be utilized in the event of an extended power outage which restricts access to the contents of a well.
Historically, cisterns were built above ground, and they used a gravity feeding system to supply water. In some cultures, cisterns are sunk into the earth, but although they are underground, they do not act as wells; someone still has to fill the cistern with water. Underground cisterns tend to lose less water through evaporation, since they are covered and insulated by soil, but they require the use of an electric pump or lowered bucket to access the water inside.
People in cities take advantage of a centralized plumbing system which is connected to a reservoir or river which is used as a source of water. Typically, the city's plumbing is attached to a water treatment plant which purifies the water before it reaches individual homes, making it safe to drink. Many of these systems rely on gravity and pressure to move water supplies, giving citizens access to water with or without electricity.
Now that you know what is a well and what is a cistern, you might be wondering how the latter works. Cisterns work by collecting water via gravity and storing it in a waterproof container, much like a covered reservoir. This is ideal for capturing rainwater and reserving it for later use. Cisterns that are designed for this use are typically constructed using downspouts and gutters that route rain into the cavity of the cistern. Alternately, a cistern may collect water that's pumped by a well or delivered by a water truck. The water can then be stored for future use, including agriculture or household activities.
Understanding Cisterns
Cisterns have been an important part of infrastructure since their origins dating backing to 2500 BC. The earliest cisterns were often made of materials such as lime plaster, brick, or stone, with a mechanism designed to catch rainwater. Modern cisterns function similarly but are typically made from materials such as plastic or concrete. This ancient invention may not be as common as it once was, but they aren't entirely obsolete, and many areas that are prone to droughts may utilize them. If you're wondering what is a cistern used for — and why is it important — read on for a brief guide on the history, purpose, and modern uses of cisterns.
History of Cisterns
The cistern has a rich and lengthy history. Since its first appearance around 2500 BC, they have evolved considerably and served as a pillar of water management infrastructure all around the world. Cisterns originated in the Neolithic age, when they were used throughout homes in villages, and they eventually became an integral component of dry land farming. Historically, these structures were used for many purposes beyond their original intended use, so cisterns also became potential hiding spots for fugitives, prison cells for convicts, and burial sites for the dead. The prevalence of cisterns made them a popular solution to a variety of problems.
What Cisterns Are Made Of
Cisterns are defined by several key characteristics, with waterproofing being one of the most important. Throughout history, different materials have been used to achieve this waterproof effect. The earliest known cisterns were made from lime plaster, which is comprised of lime, water, and sand. Early cisterns were also commonly constructed from wood, though wood's tendency to absorb water made this less preferable. As history progressed, other materials became more common when building cisterns. Modern structures are now frequently constructed using materials such as cinderblock, concrete, stone, or brick. The most common material used in modern cistern production, though, is either fiberglass or plastic. Plastic and fiberglass both offer a durable, waterproof effect that's ideal for the purposes of a cistern.
Cisterns Around the World
Cisterns have historically been common throughout many areas where water may be scarce, including parts of Asia and Europe. In addition to being used for collecting and storing water, though, these structures are sometimes used to facilitate bathing. In modern times, they are commonly found in Indonesia and Malaysia, where people will shower using the water from cisterns. They may do so using a dipper to gather water and pour it over themselves. This remains a common practice in many countries throughout Southeast Asia even in spite of the advent of piped water.
Benefits of Cisterns
Cisterns are not as ubiquitous as they once were, but they still offer a range of benefits that make them an important tool for water management. One such benefit is the impact on the environment that a cistern can have — or not have, rather. Cisterns can massively reduce water waste and prevent unnecessary harm done through modern water sourcing methods. To build a well, for example, you must drill anywhere from 100 feet to 500 feet into the ground, which can cause damage to the environment. Cisterns often offer a more environmentally conscious way to collect water and manage it effectively.
Modern Uses for Cisterns
Cisterns may seem like a relic from the past, and it's true that they were more popular in centuries past. They are still an important part of the infrastructure in many countries, though, and there are many modern uses for cisterns that preserve their utility. In places where cisterns are still common, they're often used for everyday household activities such as cooking, washing, and irrigation. In areas where water may be scarce, they are commonly installed and used to collect rainwater so that water can be accessed if an emergency drought situation occurs.
How To Build a Cistern
The building process for your cistern will be largely dependent on the following factors:
The amount of water you want to store
Annual rainfall averages
Seasonal rainfall patterns
Your property layout
Access to other water supplies
One other key factor is the type of container you plan to use for your cistern tank. The two most common options are to build a hardscape cistern from concrete and to use a preformed plastic tank. Once you've established your water needs, the available supply, and container type, you can get to work building a durable storage system. 
Building an Underground Cistern
Locating the ideal location for your cistern is the first part of the building process. You want easy access to your rain collection surface — usually a roof — and easy access to run water supply lines from the tank to any plumbing fixtures. Because of these factors, cisterns are often located near the house or outbuilding they will be supplying.
You will then need to excavate the area and prepare the soil, which must be firmly compacted to ensure the tank has a stable base. It's a good idea to remember that water is heavy, and a 5,000-gallon cistern can hold more than 40,000 pounds of water when full. 
Now you'll need to choose your tank materials. Many people prefer to build masonry cisterns, usually made from cinderblock or poured concrete. You will need to build forms and pour concrete in the desired shape. Once it is cured, you will need to apply or install a liner to seal the concrete surfaces and a roof to keep debris out. If you prefer, you can install a preformed cistern available in plastic, concrete, fiberglass, or steel models.
Installing an Above Ground Cistern
Underground cisterns are nice because they are out of sight, but they also require a pump to move water. Above-ground tanks remove this requirement by using the natural force of gravity and the weight of stored water. 
In many cases, installing an above-ground cistern is as simple as purchasing a tank, placing it in the desired location, and connecting it to supply lines. However, just like with installing an underground system, you will need to ensure that the ground underneath your tank can support its weight when full. It should also be flat so that water does not become trapped in a low spot. 
How Often Should a Cistern Be Cleaned?
You will want to clean your cistern annually if you collect rainwater. If your system does not have filters in place, you may need to do this more often. If your water is brought in by truck, you can usually extend that interval to between two and three years. 
How To Clean a Cistern
The cleaning process is relatively straightforward. It includes draining all of the water from the tank, scrubbing the cistern with a bleach solution, thoroughly rinsing it, and refilling it.
How Long Can Water Be Stored in a Cistern?
A good rule of thumb is that rainwater can be stored for up to a year and treated water for up to three years. After all, this is how long you will hold it before draining the cistern for a thorough cleaning. However, the exact length of time that you can safely store water will vary depending on factors like the temperature, your supply sources, and whether the water is exposed to sunlight in the cistern. Practicing safe water storage can help maximize storage times. 
Tips for Safely Storing Water
As you've seen, water can be safely stored for long periods. However, some basic safety rules can help avoid any problems. This is especially important if you plan to use a cistern to supply drinking water — whether it is for your family, pets, or livestock. Here are a few water safety tips that can eliminate most storage problems:
Keep sunlight out of your tank: Sunlight encourages algae growth in the water, so it is best to keep your cistern shaded or blocked from the sun.
Use a pre-filter: Organic material has a big impact on water quality, so it is important to filter debris so it does not enter the tank.
Set a testing schedule: Much like if you had a private well, your cistern water should be tested regularly for contaminants. You can do this with an at-home kit. 
Treat the water as needed: If tests show any problems, you may need to treat the water in your cistern, even if it doesn't need to be drained and cleaned. 
Frequently Asked Questions
What is a well?
A well is any space that has been drilled or bored into the ground in order to access water. A pipe and pump are used to pull water out of it, and a screen normally filters out unwanted particles that could clog up the mechanism. Wells come in all shapes and sizes, depending on the type of material that the well is drilled into and how much water is being pumped out. More than 42 million people across the United States use private wells to supply water for their families.
What is a cistern?
A cistern collects and stores water. It can be big, small, underground, on top of your house, and is usually filled with water from a well, spring, or rain.
What is the difference between a cistern and a well?
The main difference between a cistern water system and a well is that a cistern stores water from an external source, and a well itself is a water source.
What are some advantages of using a cistern over a well?
Their benefits include the ability to reduce your water footprint, save money, gain independence from the grid, and always have safe and clean drinking water.
What are the costs of installing cisterns and wells?
Generally, a rain cistern system costs more to install than it does to drill a well, though there are inherent risks with well drilling that aren't there with rain cisterns. In fact, we've had several customers who tried drilling at least once but sometimes up to three times on their property to see if they could hit water, only to find that no water was present, and then wound up putting in a cistern.
AS FEATURED ON:
AS FEATURED ON:

By: mylisa

A well is designed to tap into a supply of groundwater.

By: LoloStock

A toilet utilizes a cistern to hold the amount of water necessary to flush the toilet.

By: magralex

Cisterns can be found in various sizes all over the world, both above and below ground.