What Is the Best Way to Clean Painted Walls?
Dirty painted walls pose a housecleaning challenge. Not all paints stand up to rigorous cleaning, and if people are too hard on paints with certain types of finishes, they may end scrubbing off paint. On the other hand, not cleaning regularly can mean walls stay dirty or look dingy even after they've been cleaned.
The first tip on cleaning painted walls is to clean often. Don't let fingerprints, smudges, or marks amass for long periods of time. Too much accumulating dirt may eventually be impossible to take off, and people may end up having to repaint instead of clean.
Second, look to the paint finish on the wall. If the paint is an oil-based enamel, as might be present in bathrooms and kitchens, use a soft sponge and a mild detergent cleaner. Follow the same guidelines for latex enamels, but be sure to only keep walls wet for about a minute at most. The order of easiest to clean finishes is glosses, semi-glosses and satins.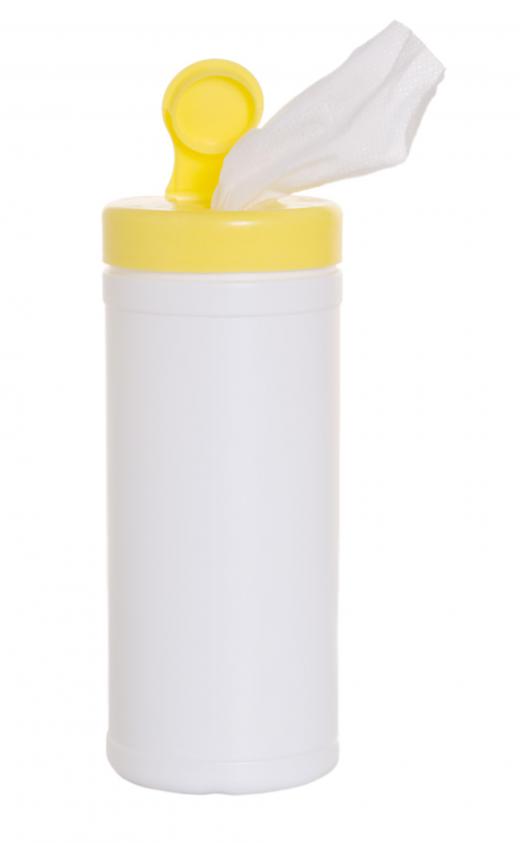 Most people will be fairly successful removing dirt from enamel paints, but flat paints create significant problems. It can be very easy to destroy the paint with even light cleaning. Observe the one-minute rule and don't scrub hard. Use soft sponges, or old nylons, and a mild cleaning solution. Avoid harsh chemicals and stick to things like simple dish detergent.
Depending on the type of paint, it can be difficult to get painted walls fully clean, and some marks like crayon or black marks don't come off easily. One thing many people have found useful is products like the Mr. Clean® Magic Eraser. This does tend to do an excellent job taking off marks, and it may also be more successful in cleaning painted walls with flat finish paints. It tends not to remove paint and only requires light scrubbing. Furthermore, it keeps walls from getting too wet while cleaning them.
If painted walls have not been cleaned in a long time, it may be very hard to get them fully clean. A few alternatives at this point are trying with more abrasive scrubbers. If the wall already looks bad and needs a paint job, there isn't much to "ruin" in its appearance. Avoid this method if the paint is very old and might contain lead.
Alternately, a quick whitewash or repaint can help refresh the wall and make everything look clean and fresh. When there is a lot of traffic through your home, such as many little hands creating fingerprints, choose to repaint with easier to clean paints. Also vow to perform wall cleanings once every few months so that painted walls remain clean.
Best Cleaner for Painted Walls
Cleaning your painted walls is great for keeping your rooms looking, feeling and smelling as fresh as possible, and the end result is well worth the effort it takes. This does not have to be a monthly task, either, if you tend not to touch your walls. Doing the job about once annually will generally do the trick and ward off any significant buildup of dirt or stains.
While you will need something more substantial than water alone to achieve a good cleaning, it is important not to use just any product to clean your walls. The wrong product might be too abrasive and can harm the appearance of your home.
Before you get to actually cleaning your walls, you will need to dust them first. There is nothing worse than trying to use a liquid cleaner of some kind on a dusty surface and using up way more cleaning cloths or paper towels than you need to. Dust (or even vacuum) first.
Once you have cleared loose dust and dirt, it is time to really clean. The best cleaner to use for painted walls is a mixture of water and dish soap. Just be sure to use a little bit of your dish soap mixture on an area that is not particularly visible first to be confident that the chemicals are not too harsh for the paint. The last thing you want is to start scrubbing the most visible patch of the wall and see a massive stain forming.
You can also use a paste made of baking soda and water. The ratio should be close to two parts baking soda to one part water. This paste is especially appropriate for stains or areas of the wall that are particularly dirty. Whatever you do, do not try to chip away at those problem spots with anything sharp or abrasive that might harm the paint.
How To Remove Water Drip Marks from Painted Walls 
When water (or other liquid) is spilled on walls, or when leaks occur, it can leave long-lasting drip marks that mar the appearance of the paint and the room itself. But never fear—those problem areas are removable and do not have to be a permanent part of your decor.
The best way to remove water drip marks successfully (and without damaging the wall) is to use a melamine sponge, like Mr. Clean's Magic Eraser. Dampen it with water and gently wash the area in a circular motion, being careful not to scuff the wall or damage the paint. Another option is to use a mixture of ammonia, baking soda, vinegar and warm water. Using a sponge or gentle cloth, rinse the area where the drip marks are. When you are done, let it dry to determine whether you need to go over it a second time.
For particularly stubborn water drip marks (or other stains that you just can't seem to clean off the wall), you can apply some paint to cover it. Just be sure to fix any leaks or other recurring causes of the marks so that the damage does not keep happening.
How To Properly Clean Baseboards 
While you are cleaning your walls, it is a good idea to take advantage of the opportunity to clean your baseboards as well. Dirt-free baseboards can help enhance the overall appearance of your rooms. It can also give your home a crisper look by creating a clean definition where the lines meet the floor.
Similar to how you cleaned your walls, you should start this process with a quick vacuum to remove any dust or other loose dirt on or around the baseboards. This will prepare you better to clean stains, gunk and any other problem areas on the baseboards.
Once you are ready to clean baseboards more thoroughly, make a cleaning mixture by combining vinegar and dish soap with some lukewarm water. Using a gentle rag, cleaning sponge or paper towel dipped in the cleaning solution, carefully and smoothly wipe the baseboards. If you encounter any particularly stubborn areas, melamine sponges are a great tool to use. Just be careful not to scrub too roughly or with anything sharp, as doing so can damage your baseboards or even the walls directly above them.
To help keep your baseboards from collecting dust, you can finish the cleaning process by going over them with a dryer sheet. Dryer sheets can help cancel out static that makes dust stick to the baseboards more easily.
AS FEATURED ON:
AS FEATURED ON:

By: Africa Studio

Supplies for cleaning painted walls.

By: Edie Layland

Some disinfecting wipes are safe to use on painted walls.

By: burnel11

A mild detergent can assist in cleaning painted walls.

By: Lisa F. Young

There are a number of household cleaning products available designed specifically to be used on painted surfaces.