Stucco flashing refers to the strips of impervious material that are used to weatherproof the parts of a stucco building that are susceptible to water leaks. The installation of flashing is an important part of the construction of any building but may have some special requirements in a stucco building. There are several types of flashing, and all have the same basic purpose, with a few variations for different areas of the building. Stucco flashing is most commonly made of strips of metal, but newer materials are also available.
Water damage to the wooden frame of a home or building is detrimental and difficult to repair, making the flashing an important part of any building. Stucco flashing is mostly the same as the flashing for a building constructed with brick or siding. When a building is being covered with stucco, however, there may be some extra materials on the frame of the building that can affect installation of the flashing. For instance, many stucco buildings have a layer of stucco mesh covering all of the framed walls before the stucco is applied. The stucco flashing will need to be installed in conjunction with this metal mesh before any stucco is applied to the wall.
Several areas of a building can be susceptible to water leaks after construction, and it is important to install flashing on all of them. The most common area of concern is the junction of walls with the roof line. Stucco flashing is needed in places where two angles of the roof meet, where a chimney or pipe comes through the roof, at the seams in the middle of walls, and around windowsills and door frames. Some less common areas that are also important to cover are the seams around a solar panel system or any mechanical equipment that sits on a roof and the area around any decorative plaster or covering. Another area to pay close attention to when applying stucco flashing is the connection of balconies, decks, and modesty walls to the main building.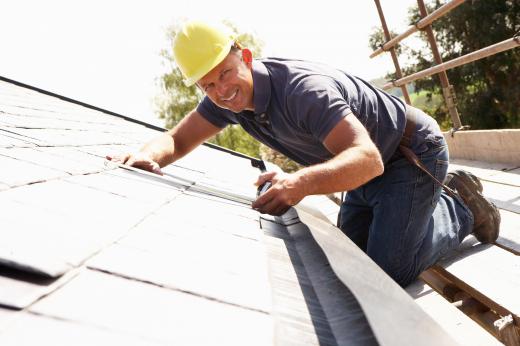 Flashing is most commonly made out of sheet metal, often aluminum or copper, but sometimes stainless or galvanized steel as well. More modern materials can also be used to create flashing. Flashing constructed of rubber or of synthetic materials, manufactured to be weatherproof, is available.
AS FEATURED ON:
AS FEATURED ON:

By: Kybele

Sheet metal is commonly used to make stucco flashing.

By: Monkey Business

Stucco flashing is needed in places where two angles of the roof meet.

By: lenatru

Traditional stucco is porous and should be avoided in wet climates.