What is Sound Insulation?
Sound insulation is the process of soundproofing an enclosed space, such as a room. This type of insulating activity is usually employed when there is a need to keep sound from filtering into or out of the space. Sound insulation techniques are often used in business settings, as well as in multi-family dwellings like duplexes and apartment buildings.
One example of how sound insulation is used is found in a recording studio. In order to prevent background noise from interfering with the recording process, singers and musicians create their vocal and instrumental tracks in a soundproof recording booth. Because the booth prohibits the introduction of sounds from outside the space, there is nothing present to distort or interfere with the quality of the recording. The audio tracks containing vocal performances and the various music tracks are captured exactly as the performers hear them.
In living space, sound insulation normally involves the installation of insulation in walls, under floors and above ceilings. This can be especially important in apartment buildings and other structures where people live in close proximity. The inclusion of the insulation between apartments to the side, above, and below helps to ensure all the residents enjoy a measure of peace and quiet, even when others in the building are playing music or having a party.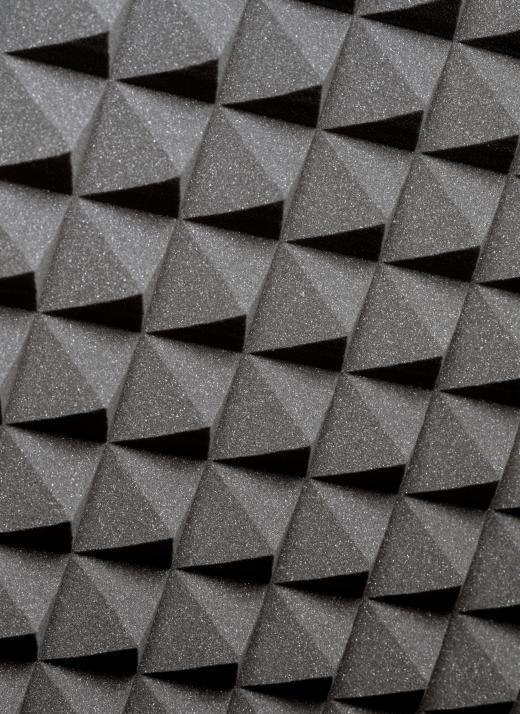 In an office setting, it is not unusual for the individual offices of managers to be insulated for privacy. This makes it less likely for confidential discussions between an employee and a manager to be overheard by others working elsewhere on the floor or near the door of the manager's office. In like manner, conference rooms are often treated to a sound insulation treatment, ensuring discussions taking place within that space are not overheard by others in the immediate vicinity.
The actual process involves inserting some type of insulating material into the walls, as well as above the ceiling and below the floor. In some cases, this involves the use of rolls of fiberglass insulation or introducing foam insulation into the open spaces. There are also prefabricated panels that can be attached to walls and ceilings when there is no room for using other forms of insulating materials. Along with helping to insulate a space from noise, sound insulation also helps to make it easier to keep the temperature of the room at a comfortable level.
AS FEATURED ON:
AS FEATURED ON:

Soundproof rooms may be insulated with foam.

Acoustic foam for soundproofing.

By: brozova

A roll of mineral wool insulation, which can be used for soundproofing.

By: PiLensPhoto

Spray foam insulation may help provide a noise barrier.

By: Violetstar

Recording studios often feature soundproof rooms.

By: Silvia Crisman

Acoustic insulation can be used to soundproof a floor.

By: Tiler84

Certain microphones sound better in an environment with sound insulation.