Shelf paper, which may also be called shelf liner or contact paper, is used to line drawers and shelves and may come in a variety of types. The most common types have adhesive backing. When the shelf paper is installed with adhesive it doesn't detach easily, and it can sometimes be very difficult to remove all vestiges of paper from a drawer or shelf. This can make replacing the paper or repainting interiors of cabinets challenging.
Most shelf paper is sold in rolls so that people can cut various sizes as needed. Rolls may have different widths and lengths, and those considering papering might want to evaluate widths of things like cabinets prior to purchasing a roll. Some people seem naturally gifted at applying adhesive contact paper, while others struggle with the adhesive and can't place the paper down evenly. Careful measuring can help and working slowly may make a difference too.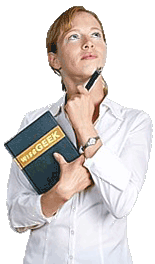 There are number of fabrics and designs in which shelf paper comes. Standard paper may be a single color and be plastic coated. Some papers are a combination of fabric and other materials. Various designs exist too which may coordinate with kitchen design.
The principal idea behind shelf paper is that it may be more sanitary and may protect certain types of wood from damage. The issue of whether shelf paper is sanitary really depends on type. Most types made from paper may actually attract paper-loving insects, and things can get underneath the paper, like bits of old food, even if the paper has been attached to a surface.
It's certainly true that some forms of shelf paper may provide protection to surfaces. For instance, placing wet glasses in cabinet shelves may gradually warp and stain the wood. Shelf paper does provide a barrier there, though many people simply prefer to use an oil-based paint that will provide this protection or materials other than wood to make shelves more durable.
Due to some prejudice against contact paper, which may be justified, manufacturers have turned to different types of paper that may prove more sanitary. Instead of coating paper with adhesive, they may instead provide shelf liners made of materials like PVC. Some of these look like fine mesh and come in rolls that can be cut into various sizes. They are easily removed and replaced if a person wants to clean a cabinet, yet they do tend to stay in place because of their material and weave.
AS FEATURED ON:
AS FEATURED ON:

Woman holding a book