Several different varieties of plants are commonly referred to as red jasmine. Jasminum beesianum, or rare red jasmine, is the only true red jasmine species. The others plants that are often called red jasmine include Plumeria rubra and Cestrum fasciculatum. All the plants have dark pink or red blossoms that have a sweet fragrance. In addition, the term may refer to a variety of whole grain called red jasmine rice.
Jasminum beesianum is a climbing plant that has red flowers and deciduous leaves. It can grow to heights of approximately 12 feet (3.7 m). The plant prefers full sunlight to partial sunlight and grows best if the soil drains well and is fertile. It can be grown in a cold greenhouse or outdoors, and needs some form of support, such as a wall or a trellis for climbing.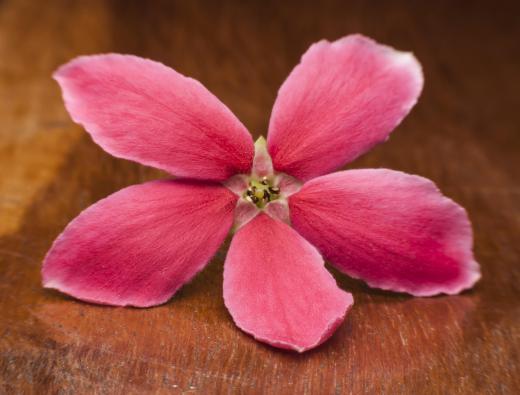 Some people believe that the flowers from the red jasmine plant can be made into a tea and consumed for health benefits. The tea encompasses a sweet fragrance from the blossoms. People who practice Chinese medicine believe that the jasmine blossoms work to improve the immune system, reduce cholesterol, increase energy, and enhance concentration. Users must make sure to use true jasmine blossoms when making the tea, as other types of "jasmine" blossoms may be toxic.
Plumeria rubra, a flowering tree that is not in the same family as jasmine, is often called red jasmine as well. As with true jasmine, it has fragrant flowers that are a deep pink or red in color. It is a familiar sight on leis and in hairpieces in Hawaii. This tropical tree can grow up to 22 feet (about 6.7 m) tall.
Cestrum fasciculatum, another non-jasmine plant, is also referred to as red jasmine. It has tubular flowers that are crimson red in color and evergreen leaves. As with actual jasmine plants, this plant emits a sweet fragrance. The plant is considered toxic, however, and no part of it should be consumed.
Red jasmine rice, on the other hand, is a special type of rice that originated in Thailand. As expected, the rice is red in color and has an almost sweet fragrance and taste. It is often used in Asian cuisine and can complement a variety of foods. For example, it goes well with poultry, seafood, and vegetable curry. It also contains protein, vitamins, and minerals, making it a healthier choice when compared to many other grains.
AS FEATURED ON:
AS FEATURED ON:

By: peterkai

Jasminum beesianum, a climbing plant that has red flowers and deciduous leaves, is the only true red jasmine.

By: Igor Normann

The flowers of red jasmine are sometimes used to make tea.

By: yotrakbutda

Plumeria rubra is sometimes called red jasmine, but it is not truly a jasmine flower.

By: amenic181

Red jasmine rice is a type of rice that comes from Thailand and has a sweet fragrance and taste.