Pool salt is washed and refined salt, or sodium chloride, and is used in swimming pools as part of a salt water system. This kind of salt is free of additives and conditions the water in a natural way, making the water more gentle on the hair, nose and eyes. Using salt means not having to buy, store or handle chlorine because it eliminates the need to manually introduce chlorine into the water. Pool salt is also relatively inexpensive and is more economical than chlorine.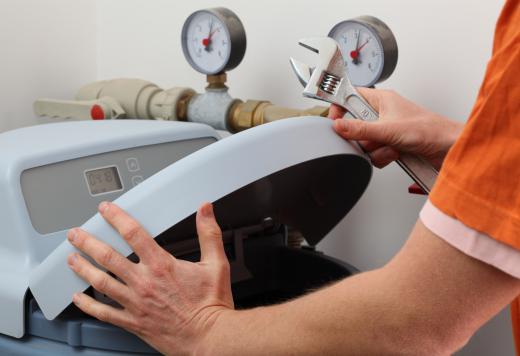 Using pool salt does not mean the pool will be chlorine free because a chlorine generator still will have to be used with the salt. This means that the chlorine needed to keep the pool clean is generated in the water itself. The chlorine generator uses electrolysis to break down the salt into two components: sodium and chlorine. Introducing a salt water system ensures the pool becomes environmentally friendly, as it cuts down on the need to introduce new chemicals. It is important to use the kind of pool salt recommended by the chlorine generator manufacturer, as this will cut down on any expensive maintenance or repairs.
The kind of salt chosen is also important and should be free of any additives and dissolve quickly and evenly. It is best to only use sodium chloride salt that is more than 99% pure. This is food quality or water softener salt and can be bought at building supply stores in bags ranging from 40 pounds (about 88 kg) to 80 pounds (about 176 kg). Rock salt, salt with anti-caking additives, iodized salt or salt with more than 1% yellow prussiate of soda should not be used. It is also best to wait at least 30 days before starting up the chlorine generator in a new salt water swimming pool.
Pool salt should only be added to the water once unless more water is added or the pool is drained completely in order to refill it later. It is still important to test the chemical levels of the swimming pool when using pool salt. Tests for chlorine and pH levels should be done twice a week, and monthly tests for calcium hardness are also needed. It is recommended to test salinity levels on a monthly basis as well, to ensure the proper level is maintained. Using pool salt as part of a salt water system means reducing complicated and intensive maintenance and saves time and money as well.


By: dja65

Pool salt.

By: Photographee.eu

Pool salt can be used as part of a water-softening system.

By: Cheryl Casey

Pool salt eliminates the need for chlorine in swimming pools.