Paving paint is a product designed to be used when painting concrete floors or walkways. It might also be used to paint outdoor stairs, curbs, sidewalks, or the exit ramps of commercial buildings. It can be purchased in a variety of colors, so it can match a variety of decorating schemes. Some types might also glow in the dark.
One of the more common uses for paving paint is that of covering concrete floors. This may be in a garage, carport, porch, deck, or basement. This is because the materials used in paving paint are normally very durable and can handle a great deal of wear; when people walk on it, the surface that is covered with this substance does not usually show signs of scuff marks or abrasions.
When applied to a concrete floor, paving paint generally looks much like an oil-based paint or stain. It normally has a light sheen but does not appear glossy. The homeowner can often choose from a variety of colors, so it can add a decorative touch as well.
Other times, paving paint might be used to mark curbs, outdoor stairs, or sidewalks. It might also be used to line parking spaces or concrete stoppers. Many people who use this product for one of these purposes may choose to paint with a fluorescent type that has glow-in-the-dark properties. This is especially true of areas that might have little or no lighting available, as this can sometimes prevent people from falling or running into objects.
Paving paint is generally applied with the use of a roller brush or wide paintbrush. It should be allowed to dry for at least two hours before adding a second coat. Ideally, surfaces treated with this material should not receive heavy traffic for at least five days after application. Painted surfaces can typically be cleaned by rinsing the area down with a garden hose, then mopping with a solution of mild detergent and water.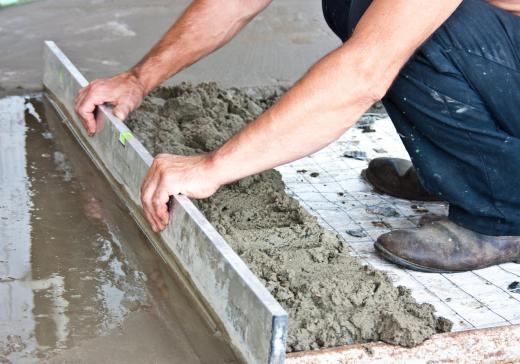 This product may come in a container that is anywhere from 0.26 to 2.6 gallons (1 to 10 liters) in size. The smallest bucket may cover an area slightly less than 46 square feet (about 4.3 square meters) in area. Two or three coats of paving paint are generally recommended for all applications of this material.
Paving paint is an item that is usually easy to apply even for beginning painters. It can improve the look of almost any outdoor area as well. Covering a surface with this product can add value and enhance safety, whether used in a business or residential setting.
AS FEATURED ON:
AS FEATURED ON:

By: fotomatrix

Paving paint is typically applied using a paint roller.

By: csimagemakers

Small blemishes should be sanded away before applying paving paint.

By: podsolnykh

Paving paint is applied to concrete after it has completely cured.