In today's world, many people have offices within their homes. Professionals sometimes take work home to complete during an evening or over a weekend. Students do a great deal of homework in home offices, researching papers on the Internet and using the connection to work with virtual tutors. Furthermore, people use their home offices to run their household and manage personal finance. Because of this, the technology field has made advances in home networking that allow families to use numerous different communications media at the same time without losing information or messages.
HPNA stands for the Home Phoneline Networking Alliance, a group of companies that share industry standards for interconnecting home computers using existing phone lines and jacks. HPNA, which is also known as "HomePNA" is used by families that want to use a single telephone connection for numerous computers. The HPNA system allows a home network of computers to share files, printers, and connect to play multiuser computer games as well as sharing a single internet connection.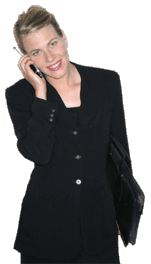 Furthermore, HPNA allows users to receive phone calls, faxes, and voice messages while using the Internet. In fact, HPNA allows families and households to have two or more home offices working online, with faxes and telephone at the same time. This is ideal for couples who work from home and families with school-age children. HPNA can also recognize which connections get the greatest priority. HPNA works to make sure that this quality of service issue is addressed in the products that it endorses.
There are many technology companies that are creating HPNA products. 3Com, AT&T Wireless, Hewlett-Packard, IBM, and many other companies have joined the HPNA consortium to created solutions and products for home networking. Because fully functional offices are becoming more and more popular within private homes, HPNA technology is constantly being updated and improved.
AS FEATURED ON:
AS FEATURED ON:

Businesswoman talking on a mobile phone