Mortar is the substance used to join bricks when constructing a wall. Dry mortar is made up of the raw materials needed to make a substance that can be used to make a strong brick wall. This product has become increasingly popular in recent years, as contractors are no longer responsible for the quality of the mortar. The manufacturer of the product is the one who bears it instead.
Dry mortar is made from the following raw materials: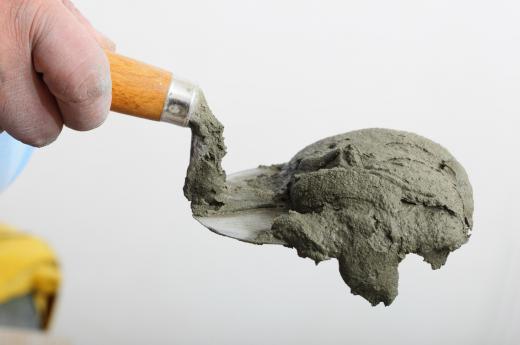 Other materials may be added into the dry mortar mix depending on its intended application. Dry mortar can be used for a number of projects, including those using concrete blocks instead of bricks. This product can also be used for the following applications:
interior and exterior stucco
filler
adhesive for tiles
repairing plaster
stucco repair
When bricks are being used on a construction site, the dry mortar compound is mixed with water shortly before use. The dry mortar compound is delivered in a bag or the water can be added to the mix manually or by using a continuous mixer. Once the mix has been moistened, it is only good for a relatively short time.
The bricklayer should only mix up the amount they will be able to use within a couple of hours. Once the mortar runs out, another batch can be made up. The mortar compound may be applied manually or by machine.
The process is faster and more economical for builders, since less time is needed to mix the compound. In the past, the bricklayer would be responsible for mixing the mortar on site prior to getting to work. The quality of the product may not have been consistent using this method, since it was dependent on the person preparing it each time.
Some manufacturers will provide their customers with custom mortar products on request. This means the customer can get the combination of ingredients that will work best for the project they are working on. Materials available locally will be used for this purpose.
Dry mortar is available at a building supply store. Safety glasses should be worn when replacing old mortar, since there is a risk of injury due to mortar flying into the bricklayer's face as any loose parts are being removed. A pointed trowel is used to replace the mortar, and an "S" jointer is used to seal the joint afterward.
AS FEATURED ON:
AS FEATURED ON:

By: Voyagerix

The bricklayer should only mix up the amount of mortar they will be able to use within a couple of hours.

By: CandyBox Images

Mortar is often used to installing and repairing tiles.

By: yunava1

A trowel is often needed when replacing mortar.