What is Counted Cross-Stitch?
Counted cross-stitch is a form of embroidery. Cross-stitch is stitching an 'x' into the fabric. There are two main classes of cross-stitch: stamped and counted. Stamped cross-stitch has the pattern to be created stamped in color directly on the fabric. Counted cross-stitch uses a pattern printed on paper laid out on a grid; the cloth remains unmarked. The embroiderer must count across, plus up or down, to know where to put the stitches.
Counted cross-stitch is easier if done on aida cloth. Aida cloth is a type, not a brand-name, of woven fabric. There are gaps in the weave at very regular spaces; using the holes to guide your stitches makes your counted cross-stitch pattern very regular. Aida cloth comes in several different counts, or stitches per inch. For example, 11-count aida cloth will measure eleven stitches to each inch. Other common counts are 14 and 18 - the higher the number, the finer the weave.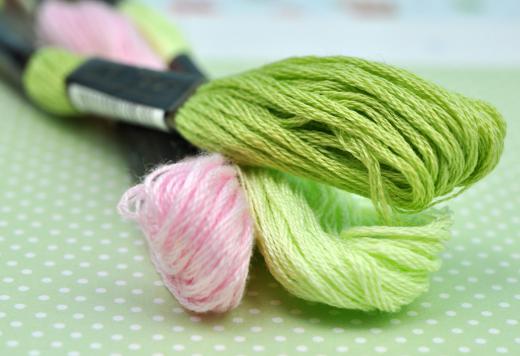 Different styles of counted cross-stitch patterns call for different weaves; a primitive scene or sampler styled on those done by young girls in the 18th and 19th centuries might be in a wider weave, so that each stitch shows an obvious 'x' pattern. Delicately shaded floral patterns might be done in a tighter weave, with many shades stitched very closely together so that no underlying fabric is visible. In this case, the embroidery can take on the look of petit point, or even a finely detailed painting.
Counted cross-stitch is typically created with cotton embroidery floss which comes in small skeins of six-ply thread. Before using, the thread must be separated into one, two or three threads, depending on what 'count' cloth you are working. Embroidery floss is available in hundreds of shades, and hundreds more can be created by using two threads of different colors together in one needle.
Counted cross-stitch patterns are available in every theme or style imaginable. You can buy the patterns alone, to use with your own selection of aida cloth and embroidery floss, or buy complete kits that contain everything you need to finish your project.
Your completed counted cross-stitch projects can be framed like a painting, form the front of a throw pillow, or decorate the edge of fine linens, among other decorative uses.
AS FEATURED ON:
AS FEATURED ON:

By: Andreja Donko

Embroidery floss must be separated for cross stitching.