What is Concrete Landscape Curbing?
Concrete landscape curbing is a durable way to edge many different kinds of landscaping, from gardens to driveways. Generally, concrete landscape curbing is a concrete edge that follows a landscaping design. It can come in a variety of styles — it can be made to look like brick or stone, for example. It can also be found in a wide range of colors, allowing it to match the brickwork of a patio or a home or the architectural scheme of a business. Many curbing projects can be completed in about one day, particularly in a residential area, but large-scale projects may take several days to complete.
One benefit to using concrete landscape curbing is its durability. Made from concrete, it is designed to last a long time. Some companies even have a lifetime guarantee on their curbing. In most cases, a lawn mower can trim the grass right up to the curb, without damaging it. In addition, it will not become rusty as metal curbing might, break apart as plastic curbing can, or decompose as wood curbing tends to do.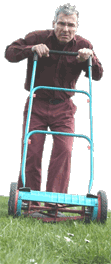 Generally, concrete landscape curbing is quite functional. It can help prevent weeds and grass from invading the landscaped areas from a lawn, for example. It will also keep gravel or wood chips that are located in the landscaped areas from shifting over time into the lawn. Since a lawn mower can cut up to the edge of the curb, there often is no need to break out the weed whip or edger.
Where other kinds of curbing may be more difficult to install in aesthetically pleasing ways, concrete landscape curbing easily works with any landscaping design. For example, it is often difficult to create smooth curves using plastic, metal, or wood curbing. Concrete curbing makes the curves found in many landscaping plans easier to achieve.
There also are many design options available to people choosing to install concrete landscape curbing. For example, the curbing can be stamped to create a brick-like, stone-like, or cobblestone-like façade. In addition, dyes can be added to the concrete so the curbs can match nearly any feature. For example, if there is a red brick patio, the concrete curb can match both the bricks and the color of the patio. Lights can be added to the curb as well, giving it a dramatic appearance at night.
The downside of using concrete landscape curbing is that if it is not cared for properly or if a company installs the curbing without using skilled workers, it can crack or crumble. For example, joints are essential to prevent cracking. In addition, if sprinklers were previously installed, they may need to be moved to make room for the curbing, which can increase the cost of the project.
AS FEATURED ON:
AS FEATURED ON:

Man mowing the grass