What is Composite Fencing?
Composite fencing is a type of fence made from a blend of materials, rather than the traditional wood or metal. Like composite decking, this fencing material offers numerous advantages to builders and homeowners, including easy maintenance and durability. Composite fencing may made of cement-based products, such as fiber-reinforced cement. The term also refers to a wide variety of thermoplastic products, which are reinforced with wood pulp for extra strength and stability. While composite fencing shares some of the characteristics of early vinyl or plastic fences, modern composite fences offer better quality and strength than these earlier versions.
Buyers can choose from a large selection of composite fencing products, each with a different design and finish. Some varieties are designed to mimic the appearance of traditional cedar or oak, while others have a look all their own. Manufacturers may offer pre-finished options, which are pre-painted or stained at the factory for a professional-quality finish. Others are designed to be finished on site during installation.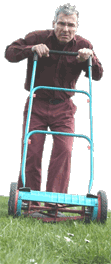 The quality and appearance of composite fencing can vary dramatically by brand. Low-quality varieties are often easy to spot, and are a poor imitation of wood or other natural materials. Cheap thermoplastic may be embossed with a pattern of wood grain, but is easy to distinguish from wood. Higher quality products may appear identical to wood or other natural finishes, and may be difficult to distinguish, even up close.
Before buying composite fencing, buyers should check on the availability of accessories. Depending on the brand, not all manufacturers produce extras like posts, rails, or trim. Without these accessories, it may be difficult to create the desired fence design.
One of the primary reasons to choose composite fencing is its strength and durability, which helps to reduce maintenance and repairs over time. Composite fence materials resist damage from water and pests, and won't rot or rust. They are not at risk to damage from termites, and can even hold up against wind and storms. Some composite fences can even be installed without the use of nails or screws, helping to further reduce maintenance and repairs.
Compared to wood or metal fencing, composite products tend to come with a higher price tag, and may also require special tools during installation. Depending on the material and finish, composite fencing may also be more vulnerable to stains, particularly spray paint and other forms of graffiti. Some pre-finished varieties may also be susceptible to fading or sun damage due to frequent sun exposure.
AS FEATURED ON:
AS FEATURED ON:

Man mowing the grass