Combed cotton is an extremely soft version of cotton made by specially treating the cotton fibers before they are spun into yarn. As a general rule, combed cotton is slightly more expensive than conventional cotton. The extremely soft, strong material is ideal for making bed linens and clothing which will be worn against the skin. If the textile used in a cotton product is combed cotton, it will usually be clearly identified.
To make conventional cotton wool or thread, the cotton is harvested, cleaned to remove dirt and seeds, and then carded. Carding separates the fibers and roughly lines them up, so that they all lie in the same direction. The cotton is divided into slivers, hanks of raw cotton which are spun into thread or wool. When cotton is combed, fine brushes are used to pull out any remaining impurities, along with short cotton fibers. Approximately 15% of the volume is removed, leaving behind only long, straight fibers which are even and aligned. The slivers of combed cotton are then spun into thread.
The texture of combed cotton is softer because it lacks short threads to stick out and prickle, and all dirt and impurities have been removed from the thread. Combed cotton is also stronger, because shorter and breakable fibers have been removed through combing. In addition, the straightened fibers lie together more tightly after combing, making combed cotton thread less likely to fray and unravel. Because the combing process removes volume and adds an extra step, the resulting textile will be slightly more costly.
Many companies prefer to use combed cotton for clothing and bed linens because of the softness and tensile strength. Cotton which has not undergone the combing step tends to be more rough, and it will be more subject to fraying, pilling, and tearing. Combed cotton will, of course, ultimately break down, just like regular cotton. It is an excellent choice for garments intended to be worn by babies and the elderly, since it is gentle against the skin.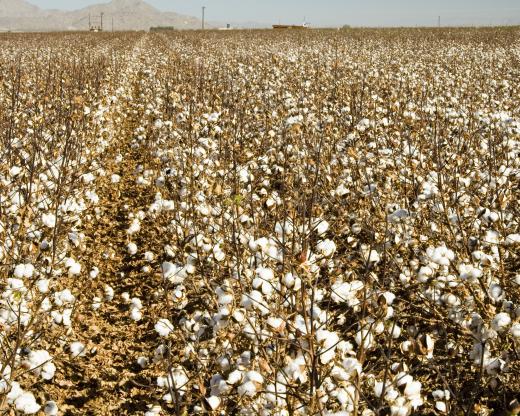 Care directions for combed cotton are much like those for conventional cotton. As a general rule, it can be washed and dried at any temperature. However, dyed combed cotton may bleed if it is washed on high heat, and knits are subject to shrinkage. The use of lukewarm temperatures and mild detergents will prolong the life of the fabric. The specific care label on a product should always be followed, in case the cotton has been mixed with another type of fiber, or it has been specially treated.
AS FEATURED ON:
AS FEATURED ON:

By: barneyboogles

Cotton bed sheets made of combed cotton.

Cotton bolls on a branch.

A field of cotton.

By: Alexandra Karamyshev

Summer shirts are often made from cotton.

By: riccardo bruni

Combed cotton is very gentle, making it ideal for use by the elderly, or those with sensitive skin.