Cleavers herb is a cool climate, herbaceous perennial plant. Cleavers is one of the common names for the plant classified as the species Galium aparine in the family Rubiaceae. Cleavers are named for their habit of cleaving to the fur of passing animals, people and birds as a method of seed dispersal. An alternate and much-used common name is bedstraw, as the plant sticks to itself, creating a dense mat that was found to be ideal for stuffing mattresses. Cleavers herb is used in the landscape and garden, for food, and as an herbal medicine.
Cleavers herb grows 4 to 9 feet (about 1 to 2 meters) tall, forming a thick, matted layer over other plants. Though not classified as a climbing vine, cleavers do cling and climb up other plants as they grow. The stems and seed pods have sticky, rough hook-like hairs that cling to fur, clothes and feathers of passing creatures. This method of seed dispersal allows the plant to distribute itself over a large area.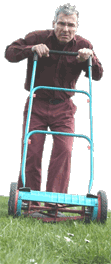 The plants grow best in cool climates and damp soil in an area that gets part to full shade. Though moderately tolerant of drought, cleavers herb will quickly die if exposed to full, direct sun. Cleavers are effective when grown in a wild area of a garden or landscape setting or along a living hedgerow or border area.
Cleavers are not a frost-tender plant and can withstand winter temperatures as low as -40°F (about -40°C). The plant material dies back to the ground in the late fall, around the time of the first frosts. The plant regrows in the spring from the hardy root system and from seed. Dead plant material should be cut back in winter or early spring before the new growth appears.
A patch of cleavers needs little care or attention and will continue to return each year without additional help. When necessary, the plants are propagated from seeds started in the late summer or early fall and raised in a cool greenhouse for the first year. Seeds can also be stored for the winter and sown outdoors the following spring.
For culinary purposes, the tender shoots of cleavers herb are best harvested in the spring and added to soups and stews. In the summer and fall, the plants become increasingly bitter. The seeds, when roasted, have a flavor that is similar to coffee and is often used as a coffee substitute. Cleavers herb is also grown and harvested for use in herbal tinctures and other medicinal preparations.
AS FEATURED ON:
AS FEATURED ON:

Man mowing the grass