What is Broadloom Carpet?
A broadloom carpet is simply any type of carpet that is woven on a very wide loom. These carpets carry a distinct and obvious advantage when they are used to create area carpeting in large rooms, as they can be installed without creating seams. As standalone rugs and carpets, they also carry a size advantage over machine-woven carpets produced on more narrow looms. Many carpet supply stores stock this type of carpet for people who wish to consider it as an option.
A wide range of styles and designs of broadloom carpet can be created. Modern carpet looms are operated with computer programs, which allow people to precisely program desired patterns and sizes. The computer can also be used to dictate the height of the pile and any additional features. This type of carpet can be pile woven or loop woven, and it can integrate a wide variety of colors. If the carpet is intended for use as a throw rug, borders can be programmed into the loom.
Construction materials for these carpets vary. It is possible to find natural materials like wool, horsehair, and sisal, typically for a moderate price, along with synthetics like nylon and plastic. Some synthetic broadlooms are designed to be fire resistant to meet regional building codes, either with the use of chemical treatments or special fibers. The backing tends to be extremely durable so that the carpet can withstand hard use.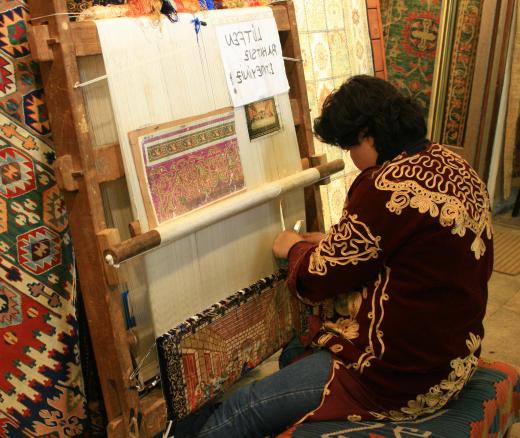 When a broadloom carpet is installed as wall-to-wall or area carpeting, it is typically laid over a carpet pad. Carpet pads help to provide more insulation, and they also protect the carpet from condensation. Pad thicknesses vary, from relatively thin to extremely plush, and they affect the overall look and feel of the carpet once it is installed. The carpet is typically nailed in place with carpet tacks or staples once it has been cut to size.
Throw rugs woven on a broadloom tend to be less costly than some other woven rug designs. Some companies will create throw rugs of custom size by cutting down swaths of material edging them with machine-made borders. This practice is common with rattan and seagrass carpets, which can be easily cut down without interrupting a pattern.
AS FEATURED ON:
AS FEATURED ON:

By: zhu difeng

Broadloom carpets are wide and can be installed without creating seams.

By: JMFontecha

Broadloom carpet can be made on looms.

By: Kadmy

Carpet pads help to provide more insulation, and they also protect the carpet from condensation.