An escritoire, also called a secretary desk, is a French term for a writing desk with a hinged top. There are several different styles of the desk, both portable and freestanding. The style became quite popular throughout Europe in the from the 16th century onward and remains a highly-sought antique furnishing. Modern reproductions are often available in a variety of styles.
Some types of escritoire are large versions of lap desks. They frequently feature a top that rolls down, revealing inner compartments. Most antique versions feature compartments for writing instruments of the time: sand, quills, ink, parchment and blotting paper. Modern versions typically feature secure places for pens and paper.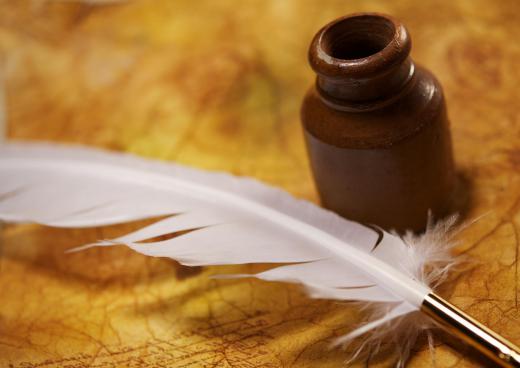 The small versions of the desk became popular with travelers, officers, and teachers throughout Europe. Celebrated British author Charlotte Bronte penned letters and even possibly some of Jane Eyre using a portable escritoire that still exists in photographs. In wartime, gentleman officers used the writing desk to write out troop orders and send loved ones accounts of the hell of war.
As fashions progressed, the once simple escritoire became a positive fiesta of decoration and adornments. Heavily carved in weighty Baroque embellishments, the desk soon became too large for easy travel. Standing escritoire styles often feature several small drawers above a flat writing surface. The top typically rolls or hinges down, and can be locked to ensure privacy or prevent mess. Many standing models also contain secret or concealed drawers, some that may require a second key to unlock.
Escritoires have carried a reputation of mystery and secrets with them since their inception. The secret compartments, hidden drawers, and locking front all suggest that this piece of furnishing is meant for illicit, or at least, highly interesting information. In literature, the escritoire often holds the secrets of nearly everything, from the great-grandmother's will to records of exactly when the affair between the governess and the master began. Authors and writers tend to get carried away in the romance of the escritoire; Kierkegaard, writing under a pseudonym, claimed that the texts presented in Either/Or were found in an escritoire.
Perhaps because of this highly naughty reputation, the secretary desk has remained a popular piece of furniture today. Although people are more likely to rest their laptop on the writing surface than their finest peacock quill pen, modern reproductions are often available from furniture stores and even companies specializing in inexpensive prefabricated furnishings. Whether stashing love letters under lock and key or merely finding a place to keep all the bills separate, the escritoire remains a useful and beautiful style of furnishing with a long and romantic history.
AS FEATURED ON:
AS FEATURED ON:

By: Nejron Photo

Escritoires, or writing desks, held supplies like quills, paper, and ink.

By: Georgios Kollidas

Author Charlotte Bronte wrote letters using a portable escritoire.