An Afghan rug or Afghan carpet is a textile floor or wall covering with an intricate woven design. An Afghan rug may be one of a few different styles of rug, but most commonly, the term refers to either the Bukhara design or the more contemporary Afghan war rug. Most Afghan rugs are referred to by their region of origin or by the name of the tribe that makes them. An Afghan rug does not necessarily come from Afghanistan — some styles come from regions of neighboring Uzbekistan, and other Middle Eastern countries have adopted the Afghani style in their own rug making. There are three major types of Afghan rug, based on region or tribal affiliation: Afghan Turkestan, Baluch, and Herati.
An Afghan rug from the border of Uzbekistan belongs to the Afghan Turkestan family of rugs and may be from a number of different tribes. Kunduz rugs are perhaps the most well known, with their very tight knots in the Persian style. Andkhoy, Alti Bolaq, Sulayman, Maimana, Aq Shah, Barmazid, and Qarqeen are other tribal groups that produce high-quality Afghan rugs in the Turkestan region.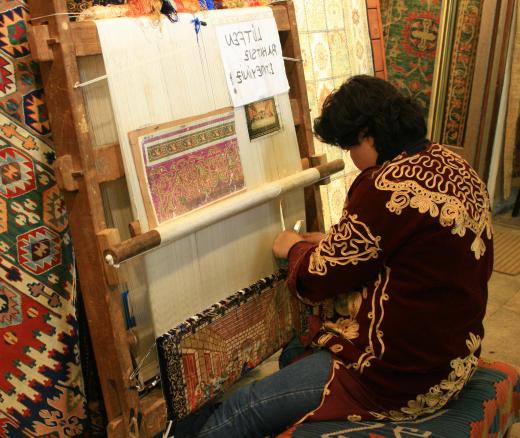 In the Chakhansur region of Afghanistan are a group of tribes known as the Baluch, consisting of the Brahuis and the Rukhshantis. An Afghan rug made by a Baluch tribe is made entirely of wool, and the rugs are still often made using traditional dyes rather than synthetics. Baluch rugs are still made in the traditional manner, exclusively by women, and woven on horizontal looms. Afghan rugs from the Chakhansur region may range widely in style, but they nearly always contain a large dot to signify the weaver.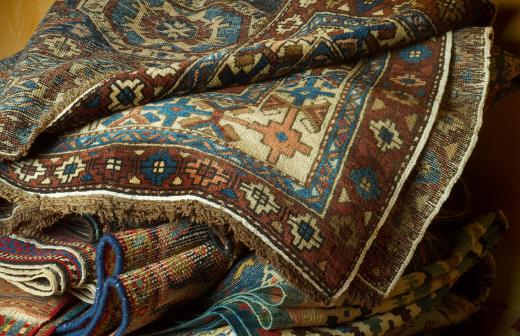 Herati rugs come from Herat, in western Afghanistan. Herat was historically one of the greatest artistic centers in the Middle East, and it continues to be a thriving center of the arts in the modern world. An Afghan rug from Herat is distinguished by the incredibly fine level of workmanship that goes into it, utilizing a very tight weave that fits many knots into a small area.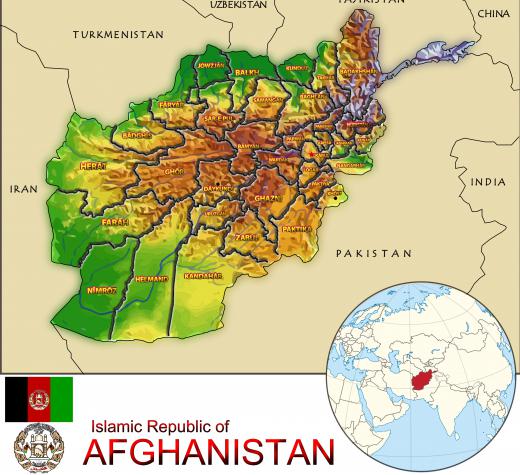 In the early 1980s, an Afghan rug style appeared that was unique from other Persian rug styles. This type of rug came out of the violent occupation of Afghanistan by the Soviet Union and is known as a war rug or Afghan war rug. While this type of rug is woven in a classic style, it is the subject matter of the Afghan war rug that makes it so fascinating. Rather than basic geometric designs or historical patterns, the war rug contains iconic imagery of war.
An Afghan rug of the war style might contain helicopters, light weaponry, heavy artillery, and tanks, all on the background of a more traditional rug style. The rugs are fascinating and vivid in their depiction of Soviet tanks and missiles, and they offer an interesting glimpse into an artistic culture besieged by war in the modern era. In the wake of the US invasion of Afghanistan to oust the Taliban government, a new wave of Afghan war rugs appeared, incorporating the military imagery of that action.
Afghan rugs, like Afghanistan itself, represent a diverse range of cultures and artistic sensibilities. With some drawing heavily on Persian influences, others from more Oriental styles, and still others reflecting the unique war history of Afghanistan, an Afghan rug is both an amazing piece of art and a pinnacle of craftsmanship.
AS FEATURED ON:
AS FEATURED ON:

By: JMFontecha

Looms can be used to make Afghan rugs.

By: Marco Mayer

Some Afghan rugs have an Oriental style.

By: juan35mm

In the Chakhansur region of Afghanistan, a group of tribes known as the Baluch make Afghan rugs entirely of wool and using traditional dyes.