Useful for storing food, or for lining hats to keep the alien brainwaves at bay, aluminum foil is a fixture around the world. It is a paper-thin sheet of rolled aluminum that tears easily and can be used to wrap and store food, in art, as decoration, as insulation and in heat exchangers.
First developed in 1910 as a replacement for tin foil, aluminum foil gained popularity quickly. It is not merely seen in home use, but also has many commercial uses. Manufacturers quickly found that it preserved food from bacterial growth, prevented light from spoiling the food, and helped stop moisture from collecting in it. It also does not impart any flavor to food wrapped in it. Many manufacturers use this foil to line drink boxes, thermal bags and other foods.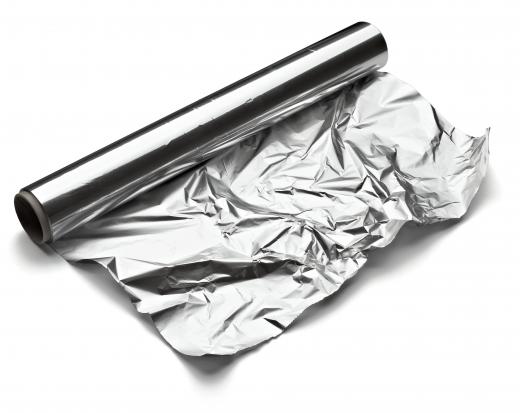 Most people are familiar with aluminum foil for its many kitchen uses. It can be used to wrap foods for cooking, to retain their moisture, for grilling and for covering food going into the refrigerator or freezer. It is also useful to inhibit browning, and one popular use for it is to put it around the crust of a baking pie so the crust does not burn as the pie cooks. The foil is often used in takeout food delivery packaging.
Aluminum foil can also be used for arts and crafts, especially foil that comes in different colors. In this form, it is also used for wrapping gift boxes and other gifts. Regular kitchen foil has many uses outside the kitchen. It can be used over the mouth of a bottle and the cap placed on it, so the liquid will not leak. It can be an impromptu palette for paint. Cosmetologists even use foil when coloring or highlighting a client's hair. They may also mix up the hair color in a makeshift bowl of aluminum foil.
Few industrial products have as many in-home applications as aluminum foil. The inventors surely never dreamed it would serve so many uses, not the least of which is keeping those aliens from reading your mind.
AS FEATURED ON:
AS FEATURED ON:

Aluminum foil.

By: Andres Rodriguez

Aluminum foil has many uses outside of the kitchen; cosmetologists use foil strips when highlighting clients' hair.

By: Maksim Shebeko

Aluminum foil can be used to wrap foods during cooking and roasting, as well as storing food afterward.

By: Eliane Haykal

Aluminum foil can be used in art projects.