What is a Wood Burning Water Heater?
A wood burning water heater is a unit that heats water using wood as an energy source instead of electricity or natural gas. It may also be adapted to use coal, kerosene or oil as alternative source of fuel. Proponents claim that this type of water heater is much more energy efficient, because traditional water heaters use approximately 25-50% of a home's energy usage. Wood burning water heaters are more energy efficient because they work on an "on demand" basis, heating smaller amounts of water only when needed, as opposed to a regular water heater that maintains a larger amount of water at a consistently higher temperature.
Rising hot water within the unit circulates the water by creating a pump action, eliminating the need for a separate circulating pump. Because a wood fire produces dangerous fumes, the water heater requires a flue stack that vents to the exterior of the house. There are units available designed for either the interior or exterior of the home. Units for the interior of a house may also function as a heat source.
A wood burning water heater is usually comprised of a fire-chamber, or firebox, an ash chamber and the water tank. The fire-chamber is lined with fireproof material such as bricks, then is surrounded by stainless steel. This allows most of the surface of the water heater to become a heat transferring surface, heating the surrounding air.
Most heaters are easily introduced into a home using the existing plumbing, with minor alterations. A typical wood burning water heater designed for household use has a tank capacity of 14 gallons (53 liters). Although this seems small, it can meet the demands of a normal household. It takes approximately 45 minutes to heat 14 gallons of water from 52°F (11°C) to 152°F (67°C).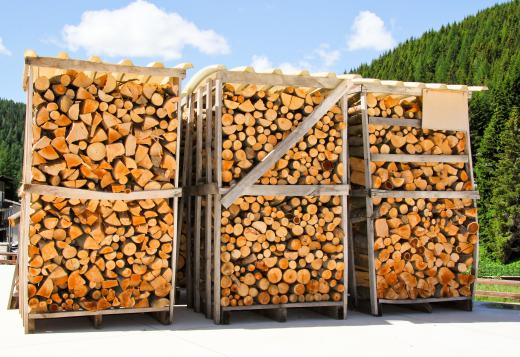 While many people will not see the need to convert from electric or gas powered water heaters, many who want to be more energy "independent" will see the benefits of using wood. Others choose to add this type of water heater to their home as a back-up source of hot water if their primary source of energy fails.
AS FEATURED ON:
AS FEATURED ON:

By: Nigel Monckton

A wood burning water heater can be adapted to burn coal.

By: erikazanier

Wood rather than oil or gas is used as an energy source to heat water in a wood burning water heater.