What Is a Washing Machine Drain Hose?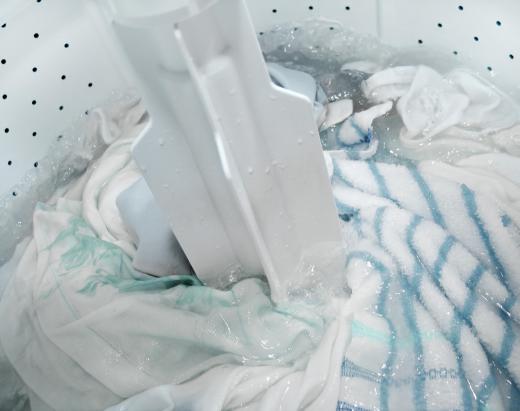 A washing machine drain hose is a flexible pipe, usually constructed of plastic, that connects the washing machine to the existing drainage pipes in the building. This hose is one of many important washing machine parts that are instrumental for the sanitary operation of the washing machine. Properly installed, the drain hose directs wastewater out of the washing machine and into the septic or sewer system during and at the end of the washing cycle.
All automatic types of washing machines use a drain hose. One end of the washing machine hose is clamped to a small, protruding port on the back of the washing machine. The other end of the hose is clamped to or hung on a pipe or receptacle that leads to the sewage pipe system. A pump inside the washing machine directs the wastewater from the laundry load into the washing machine drain hose, which carries it into the sewer system. Automatic washing machines pump the wastewater through the drain hose periodically throughout the rinse cycles and after the final cycle of the washing load.
Installing or replacing a washing machine drain hose is not difficult. The clamp that secures the hose onto the back of the washing machine is easily pressed with pliers to secure it to the machine. Over time, the rubberized plastic hose might develop small cracks or pinholes. When the hose becomes cracked or dry, replacing it is necessary to avoid potentially costly water damage from leaks.
A washing machine requires proper venting for the drainage system to work properly. A vent allows air into the plumbing drainage system. The air prevents a vacuum from forming in the pipes when the water is traveling through the drainage system. Not vented, the washing machine drain hose might spurt water or shake loose from its mooring on the drain pipe during the washing machine operation, or it might emit methane sewer gases from the drain pipe while not in operation.
Clogs are another common problem with washing machine drain hoses. Excessive sediment or lint might build up in a hose, causing an obstruction that can lead to water backflow. A kink in the drain hose blocks proper water flow and might hinder the drain cycle of the washing machine. A washing machine drain hose is a seemingly inconspicuous component of washing machine operation, but without the drain hose, the washing machine would quickly overflow with wastewater.


By: Johanna Goodyear

Automatic washing machines pump out waste water through the drain hose during the rinse cycle.