What Is a Three Seasons Porch?
A three seasons porch is a type of outdoor deck on a home that is somewhat more insulated than a traditional porch, and therefore can be used when the weather is slightly cooler, such as in the spring and fall. Generally a three seasons porch has a finished floor with outdoor carpeting, and is topped with a roof and surrounded by windows that can be opened in the warmer months to allow air to flow through the screens and closed in the cooler months. Because it is protected from the elements, homeowners can place more traditional furniture on their porches, rather than basic patio furniture, and often install electricity as well.
Because a three seasons porch requires much more construction than a basic patio or deck, it may require building permits, so it is important for homeowners to check this ahead of time. Some people will choose to place a three seasons porch on top of a foundation in order to insulate it a bit more, whereas others will just place flooring on top of a basic deck. This will still be pretty chilly, however. Many people will then carpet their porches in indoor/outdoor carpeting, knowing that it will be protected from the weather by windows and a roof.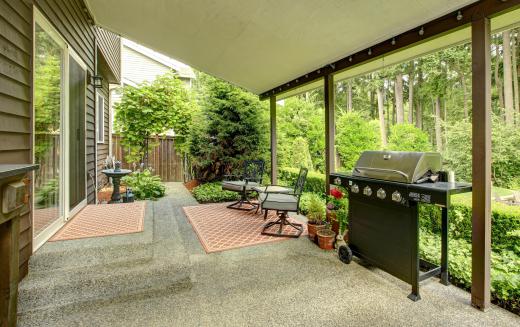 All three seasons porches will have a roof, typically with a finished ceiling underneath. Many people will also install ceiling lights or a ceiling fan in order to make the porch more like a room. Others will install electrical outlets throughout the porch in order to plug in additional items like a television or stereo system for more outdoor enjoyment. To make the porch a true three seasons porch rather than a simple screen porch, it is typically finished with large windows that can be opened in the summer and closed the rest of the year. These porches are usually minimally insulated.
Homeowners are then free to place more traditional furniture on their three seasons porch, such as a comfortable couch or a dining table, since it will be protected from the elements. It is just important to remember to shut the windows in the summer in case it starts to rain. A three seasons porch is really more like a sunroom than a porch, but many people find it is the perfect addition to their homes, allowing them to spend time enjoying the outdoors while still in the comfort of their homes.
AS FEATURED ON:
AS FEATURED ON:

By: Iriana Shiyan

In warm climes, a relatively open porch or patio can be used at least three seasons out of the year.