What is a Swimming Pool Kit?
A swimming pool kit includes all of the necessary components required to install a swimming pool in a backyard. The main difference between a swimming pool and a swimming pool kit is the filter unit. A swimming pool consists of a liner, support rails and a frame. The swimming pool kit includes a filter and pump station, as well as decking or platforms to sit on the edge of the pool. Many kits also provide an access ladder to aid in the process of getting in and out of the pool.
When deciding on the addition of a swimming pool kit to a home site, the main focus should be on location. The swimming pool kit should be located on a flat area with plenty of sunlight. Installing a pool into a shady area or underneath trees will result in a swimming pool that is difficult to keep warm and requires continual cleaning. Constant and direct sunlight throughout the day will aid the pool's chemicals in keeping the pool clean and ready for use.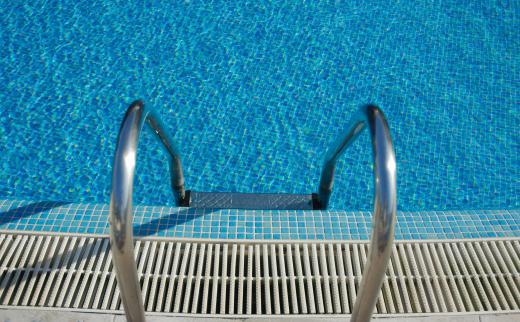 One necessity that will not be included with a swimming pool kit is clean sand. Once a location has been decided upon, the top layer of sod should be removed from the area that the pool will sit on—all rocks and tree roots should be removed, and the area should be raked out flat and smooth. Once prepared, the entire area should be covered with clean sand. The sand will provide a stable platform for the swimming pool liner to rest on and prevent any rocks or roots from poking holes in it. The directions in the swimming pool kit may instruct the installer to run a water sprinkler on the sand overnight to ensure that it is settled properly prior to installing the swimming pool kit.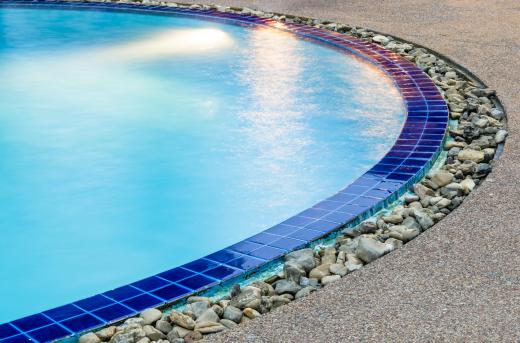 The installation of the swimming pool is a straight-forward process and can be accomplished by most people in a single afternoon. The most important component of any pool is also not included with the swimming pool kit: water. While the pool can be filled by running a garden hose from a spigot to the pool, most installers choose to go another route. Most local fire departments will arrive on site with a water tanker and fill a pool for a nominal fee. This is a much faster way to fill the pool and is far less taxing on a home's water system and nearly always more cost-effective than paying the city water bill for filling a pool.
AS FEATURED ON:
AS FEATURED ON:

By: Wolfgang Jargstorff

Many swimming pool kits include a ladder for easy access getting in and out of the pool.

By: ViewApart

The water itself is the most crucial component of any swimming pool.

By: Eléonore H

A basic garden hose can be used to fill a pool.

By: Iuliia Sokolovska

Most swimming pool kits include a filter and pump station that clean the water.

By: ElinaManninen

A swimming pool kit should be installed in a flat area that has plenty of sunlight.