A stoop is an architectural style of exterior staircase entrance traditionally popular in the Netherlands. The word comes from the Dutch stoep. The steps are made of cement, as are the solid short walls on each side of them. These staircase features, along with a small porch area, make up a typical stoop. Dutch colonists settled in New York in the 1600s; they added this style of stairs to rows of apartments called tenements and brownstones.
Brownstones are row houses that may be made with some of the reddish brown rock of the same name. Tenements originally referred to large buildings divided into separate apartments, but the word was later used to mean run down, poorly maintained apartment buildings. Stoops aren't found much in modern New York construction, but were once commonly added to tenements and brownstones in areas such as Harlem and Brooklyn.
The people who lived in each brownstone and tenement were responsible for keeping the stairways clean. Sweeping them was a daily activity for many residents. Many people would try to beautify the front porch areas at the tops of the stoops with flower planters.
Since these areas connected the row homes with the street, the neighborhood children's play naturally extended out into the adjacent streets and empty corner lots. Many kids from a neighborhood would gather to play games such as stick ball, an urban version of baseball. It was popular in New York and some other areas in the Depression of the 1930s when sports equipment was not easy or affordable to get. Children used an old broom handle as a bat and a rubber ball as a baseball.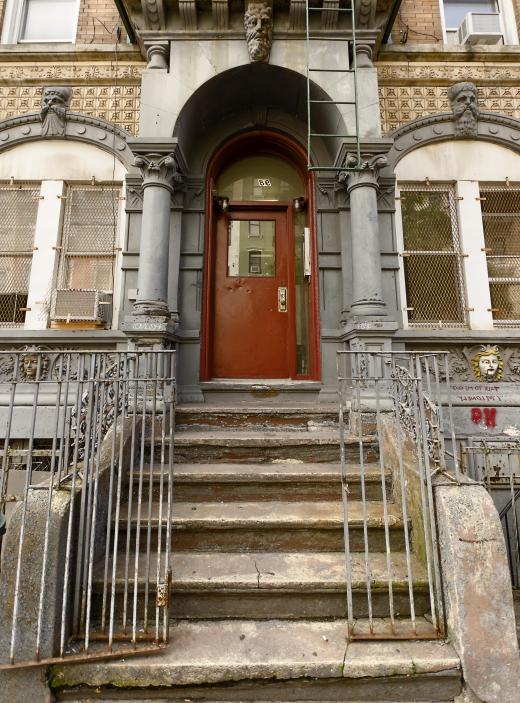 Another related child's game involved throwing a rubber ball on the stairs. Stoop ball, as it was called, takes two or more people to play. It was also based on baseball. As the main objective, the person with the ball tries to not have the ball stopped by the other player or players who are standing at the top of the staircase.
Adults also commonly socialized outdoors on stoops in nice weather. Some would just chat, while others would play games such as checkers or chess. A pad, pillow or even a chair placed outside on the upper part of the entrance eliminated having to sit directly on the cement stairs. People would sit there to read or just to get outside for a while. Stoop-sitting, as it is sometimes called, was a regular daily part of life for many New Yorkers.
AS FEATURED ON:
AS FEATURED ON:

By: luminouslens

A stoop leading up to a green door in Philadelphia, Pennsylvania.

By: ManuelHurtado

A stoop in New York City.

By: chrupka

Brownstone homes are located throughout upper Manhattan and Brooklyn.