A stilt house is a raised structure that is most commonly built above water, although it also may be built over dirt or sand. It is sometimes called a pile dwelling because it is supported by large stakes, known as piles, that are driven directly into the water or into the shoreline. These structures typically rest 10 - 12 feet (3.5 - 4 meters) off the ground to allow for high tide, and are designed to avoid flooding and water damage. Created from bamboo or other water-resistant timber and reinforced with deck boards and sometimes concrete, stilt houses can be found throughout the world.
This type of house must be built on land or water that is free from rocks or metallic debris. When possible, deep holes are dug and are filled with a concrete mixture to offer additional weight and reinforcement before sturdy posts are added. If digging holes is impossible because of water, then the posts are sharpened on one side and erected, often by a team of men, during low or medium tide. When the necessary posts are in place, a base is built by laying deck boards on top of the posts to create more support. This combination of posts and base forms the "stilts," and the rest of the house can be completed on top of the stilts as desired.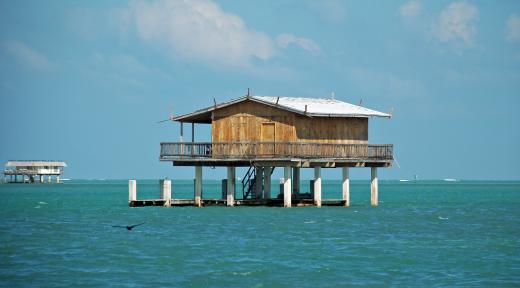 Primarily regarded for its protection from flooding, there are many additional advantages to the stilt house. It is relatively easy to construct, and the design makes use of land that might be otherwise unsuitable for housing. The elevation serves to keep out vermin and offers protection from animals. The space beneath the house may be used for storage, in some cases, and some families can even fish from the front porch.
The stilt house dates back to prehistoric times, but it is still commonly found around the globe, especially in places prone to flooding. In Indonesia, Singapore, and other countries, "kelong" are built for fishing, but may double as offshore housing. The "Nipa hut" is the primary type of housing found in the Philippines, and a similar type of structure is also popular in Papua New Guinea. Thai stilt houses are often built above freshwater, and the "Palafito" is found in the tropical river valleys of South America. These houses are also gaining popularity in the United States, particularly along the Gulf Coast, where the threat of hurricanes is severe.
AS FEATURED ON:
AS FEATURED ON:

By: abstrand

Stilt houses are designed to avoid flooding and accommodate high tide.

By: didoi

Stilt houses are popular throughout the world, sometimes built to be used for fishing.

By: simon gurney

Stilt houses are sometimes built on land.

By: razlomov

Stilt houses are designed to resist storm surges caused by hurricanes.