What is a Soaking Bathtub?
A soaking bathtub is a bathing tub which is very deep, allowing a bather to comfortably immerse more of her body than is possible in a traditional bathtub. Beyond this basic definition, soaking bathtubs can vary widely in their appearance and capabilities. Compared to a traditional tub, a soaking bathtub has both advantages and disadvantages. It can save space and allow for an exceptionally comfortable bathing experience. On the other hand, it can be expensive to buy, and both costly and time-consuming to run.
While traditional bathtubs are usually wide but fairly shallow, a soaking bathtub is narrow but quite deep. This depth allows a bather of average height to be immersed in water up to the shoulders or neck while sitting upright in the tub. Many bathers find that the ability to sit up in the tub while remaining immersed makes for a bathing experience that is more comfortable and relaxing than that allowed by a traditional bathtub.
Beyond the depth that unifies them, soaking bathtubs can vary widely in their appearance and capabilities. While many models are round, some are square, oblong, or even hexagonal. Some are designed to be placed on a bathroom floor, while others, known as drop-in soaking tubs, must be embedded into the floor so they are level with it or partially raised above it. A number of different materials can be using to make a soaking tub, from porcelain to wood, copper, or stainless steel. Additionally, some soaking tubs have only a faucet and handle, while others have special features like jets or built-in lighting.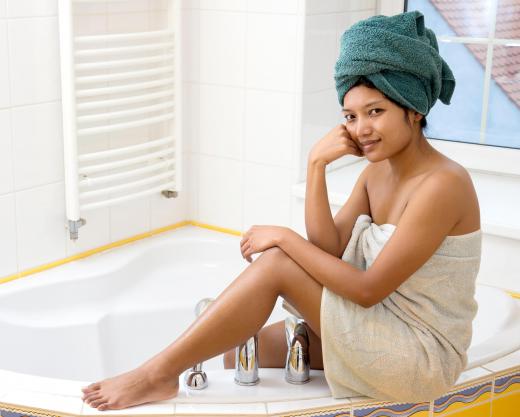 Compared to a traditional tub, a soaking bathtub has both positive and negative attributes. One of the most frequently cited benefits of a soaking tub is the floor space it can save due to its narrow design. This type of tub can also lend a stylish, spa-like feel to a bathroom. Perhaps the main reason for choosing a soaking bathtub, however, is the relaxation it can allow.
On the other hand, a soaking bathtub can be more expensive than a traditional tub. Models which are made from expensive materials, which have a number of special features, or which require drop-in installation, in particular, can be quite costly. Additionally, large soaking tubs can take a considerable amount of time to fill. They can also lead to increased water, gas, and electricity consumption, in turn causing home utility bills to increase in price.
AS FEATURED ON:
AS FEATURED ON:

By: Photographee.eu

Soaking tubs are very deep, allowing almost total immersion in the water.

By: milkovasa

Soaking bathtubs come in a variety of shapes, including corner tubs.

By: stormy

Soaking tubs are typically used for relaxing baths or to ease sore muscles and joints.