A slab basement is a concrete basement without footings. The basement walls are built and then a concrete slab is poured. This creates a concrete slab floor that is, in reality, a floating slab. The term floating slab basement means that the concrete slab is able to move up and down as the ground moves or freezes. This is typically not an issue with a slab basement due to the slab being poured below the frost line.
One issue that often affects a slab basement negatively is water. In wet areas, water often seeps in beneath a concrete slab floor and the hydraulic pressure that it creates can move the slab up and down. This hydraulic action can crack and break the concrete slab and can also force water up around the edges of the slab. A sump pump positioned at the lowest corner of the basement will often prevent the water from damaging the slab basement.
Typically, a slab basement is poured in a structure that was previously built without a concrete basement floor. The dirt floor is leveled out and compacted in order to create a smooth, flat base for the slab to sit upon. Once the area is prepared, the concrete is poured in, typically through a window in the foundation. The result is a slab basement that offers a much more stable and clean surface than the dirt floor it replaced.
In basements that house the heating furnace and water well pump, special care must be taken to raise these components up and out of the way prior to pouring the concrete. Many times the furnace and other components are placed on blocks or bricks which are left in place when the concrete is poured. When a sump pump is going to be installed in the basement, a form is placed into position and the concrete is poured around the form. The resulting opening in the concrete is much cleaner than any opening that would result from boring through the cured concrete.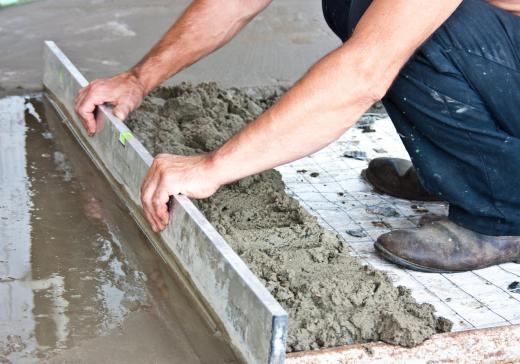 In colder climates, it is often common to place hot water lines in the concrete. This type of radiant heating system is very easy to maintain and keeps a comfortable temperature in the basement. By warming the basement, the household heating bill is often reduced as the radiant heat flows upward throughout the building. The in-floor heating coils also prevent cracking of the concrete due to temperature variations.
AS FEATURED ON:
AS FEATURED ON:

By: Lilyana Vynogradova

Basement floors should be smoothed as soon as they are poured.

By: oocoskun

Basements often have drainage systems that use sump pumps to remove excess water.

By: podsolnykh

Concrete for a slab floor is frequently poured over a steel rebar grid, which increases the strength and durability of the foundation.