What is a Pull Cord Lawn Mower?
A pull cord lawn mower is one that is started by pressing a button to prime the engine, then pulling a cord to crank the motor and start it moving. The cords are often found on push-type or walk-behind mowers, and resemble a rope or piece of clothesline. Both gas and electric powered machines contain these cords. A lawn mower with a pull cord does not need to have the cord pulled again in order to shut it off.
Push mowers and walk-behind mowers are common types of pull cord lawn mowers. In order to operate a push mower, a person must exert force while he is walking. A walk-behind mower generally does not require a great deal of force in order for a person to use it, but must still be guided where it needs to go. Both of these types typically have a cord or rope along one side that must be pulled in order to start it.
A pull cord lawn mower might operate on gasoline, a mixture of gas and oil, solar energy, or electricity. Those that take gasoline or a combination of gas and oil usually have a small button on the side of the machine that must be pressed before pulling the cord. This button serves as a primer, delivering gas to the machine's carburetor.
Solar or electric powered equipment generally have a key that must be turned to an "on" position before pulling the cord. These mowers must usually be charged anywhere from four to eight hours before being used. They can normally be operated between one to two hours before needing to be plugged in again. The model, terrain, and thickness of the grass affect the amount of time they can be used before charging.
One of the advantages of a pull cord lawn mower is that it is usually inexpensive to purchase. Many people find this type of machine easy to repair and maintain as well. Repair parts can normally be found easily should they be needed.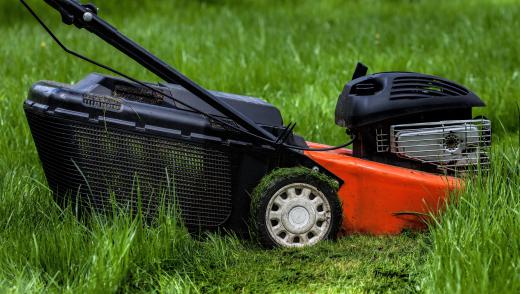 Some of the disadvantages of a pull cord lawn mower is that the cord often gets stuck, making the lawn mower hard to start. The cord might also break or fray, and need to be replaced often. Some people have difficulty pulling the cord because there is sometimes a great deal of tension in it. Other mowers might need to have the cord pulled multiple times, which could result in the engine flooding.
AS FEATURED ON:
AS FEATURED ON:

By: Horticulture

Walk-behind lawn mowers often employ pull cords.

By: Photographee.eu

Electric-start mowers have no crank cord.