What is a Prefab Fireplace?
A prefab fireplace is a one that has been manufactured and assembled in a factory before being transported and installed at a job site. Many of these are ventless. This allows the user to burn a gas fire without the need to vent any fumes to the outside of the home. These fireplaces are typically installed inside of an existing fireplace, while the majority of units are built for new construction or remodeled rooms.
Most prefab fireplaces work with manufactured gas burning logs. These logs resemble a natural log, but they are ceramic and equipped with gas lines running through them. These logs also feature tiny gas holes that simulate flames running along the length of the log. Vented fireplaces uses different logs than ventless versions.
Installing a prefab fireplace requires the construction of a surround. The opening of a surround is designed to allow the metal fireplace to slide into place and attach through the flange on the fireplace. Screws that are run through the metal flange of the fireplace and into the wood of the surround efficiently mount the unit in place. Gas and electric lines run to the fireplace inside of the surround.
Many of these fireplaces are designed with blowers. This type of unit can be used to actually heat a room. By installing small electric blowers inside the fireplace, the heat generated from burning the gas logs can be blown into a room. This creates not only the peaceful visual pleasure of a fireplace, but the warming qualities as well.
On the vented prefab fireplace models, the gas fumes are directed out of the home with a chimney. The chimney is often a facade of wood construction surrounding galvanized stove pipe. The galvanized pipe is typically multi-layered and is run through the false chimney along the exterior wall of the home and vented near the peak of the roof line. In homes with an actual working chimney, the fireplace is routed to the chimney with the multi-layer pipe.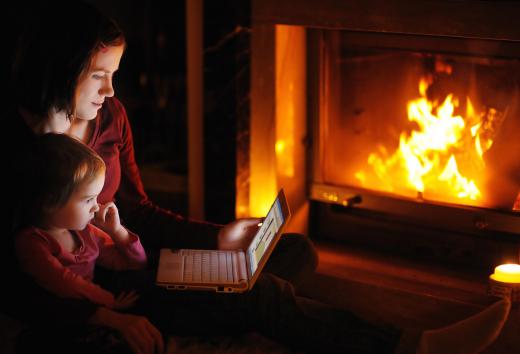 Prefab fireplace designs offer the best of both worlds to homeowners — the safety and convenience of a gas fireplace that is complete with safety features along with the romance and atmosphere of a wood burning fireplace. Cleaning of ashes and soot are replaced with dusting and polishing the metal construction. A multitude of mantle designs are available to maximize the visual impact of the fireplace inside of a home.
AS FEATURED ON:
AS FEATURED ON:

By: markcarper

Many prefab fireplaces use gas burning logs instead of actual wooden logs.

By: Steve Rhode

Most prefab fireplaces burn manufactured gas logs.

By: MNStudio

Pre-fabricated fireplaces are commonly installed inside an existing fireplace.

By: nyul

Proper chimney and hearth construction are crucial to maintaining the safety of wood-burning fireplaces in homes.

By: Syda Productions

Fireplaces are often used to create a romantic atmosphere.